"We have no excuse to be silent about what is happening in China" (Photos)
November 19, 2012 | By Minghui correspondent Huaqing
(Minghui.org) Internationally renowned human rights lawyer David Matas attended a book signing and press conference for the new book State Organs: Transplant Abuse in China in the New South Wales (NSW) Parliament House in Australia on November 13, 2012. The book, edited by David Matas and Torsten Trey, exposes the Chinese Communist Party's (CCP) atrocity of harvesting organs from prisoners of conscience.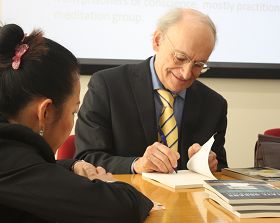 David Matas signs the book State Organs: Transplant Abuse in China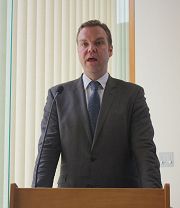 MP Jamie Parker
Greens Member of Parliament Jamie Parker hosted the conference. He said that the significance of this conference was not just for NSW but across the globe. He introduced the book State Organs and said that when a certain number of residents in NSW sign to support a public debate on the issue, a forum would be held on the topic of organ harvesting.
Mr. Matas has extensively researched the Jewish Holocaust. He said that the CCP's organ harvesting from living people was genocide. Mr. Matas and Mr. David Kilgour, former Canadian Secretary of State for the Asia Pacific region, who with him co-authored the book, Bloody Harvest, have conducted extensive investigations into allegations of the CCP's harvesting organs from living Falun Gong practitioners. They have collected sixty-two pieces of evidence supporting allegations that the CCP is engaged in harvesting organs from imprisoned Falun Gong practitioners and other prisoners of conscience. Since carrying out the investigation, Messrs. Matas and Kilgour have visited more than eighty cities in more than fifty countries to raise awareness of the atrocities.
Mr. Matas said that he and Mr. Kilgour have collected a wide variety of evidence. For example, independent investigators contacted Chinese hospitals to inquire about organ transplants and specifically ask for organs of healthy Falun Gong practitioners. Both Falun Gong practitioners and non-practitioners who had been imprisoned in China were interviewed. Interviews revealed that Falun Gong practitioners were given thorough and systematic physical exams, clearly not for health care reasons because they were terribly tortured in Chinese jails. Mr. Matas stated, "China has the highest number of organ transplants in the world, after the US, however they don't have a donation system. So where were the organs coming from? Originally the CCP said they were coming from donations. Then they shifted to say they were coming from prisoners sentenced to death. But the volume of transplants was so astronomical that it was not a valid assertion."
State Organs is a collection of articles from internationally renowned authorities and doctors in the organ transplantation field.
Professor Maria Fiatarone Singh, professor of Exercise and Sports Science at the University of Sydney, and a contributor to the book, gave a presentation at the conference. She stated that regardless of the urgency of the health of the recipient, harvesting organs from living prisoners is "unjustified and against all that makes us human."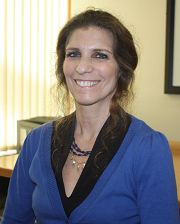 Professor Maria Fiatarone Singh, professor of Exercise and Sports Science at the University of Sydney
Professor Fiatarone Singh said, "I first became aware about the forced organ harvesting in 2007 at a breakfast meeting at which David Matas was speaking, hosted by the Transplant Society of Australia and New Zealand. As a physician, my Hippocratic oath has been 'do no harm.' It is obvious that killing someone to sell their organs for transplantation... It is a violation of the most basic human right – the right to life itself.
"It is a crime that is not limited to the CCP leaders that dreamed it up. Guilt is borne by many more people; by the doctors that give the lethal injections to the victims, guilt is borne by the pharmaceutical companies that carry out clinical research and provide the anti-rejection drugs; guilt is borne by the editors of journals that publish such clinical trial data; guilt is borne by nurses that partake in the harvesting operation themselves; guilt is borne by the travel agents who book flights for transplant tourists; guilt is borne by doctors who don't dissuade patients to travel to China for transplantation surgery or condemn the practices in China; guilt is borne by ministers and members of parliament who do not raise their voices in objection, even if that objection offends the giant trading partner to the north.
"When I told my fellow medical practitioners about organ harvesting, most of them had never heard about it, many in fact did not believe it. All of them felt powerless to do anything about it to affect change.
"When the holocaust was happening, there are many ways we could have acted earlier in that situation. Now, in the age of the Internet, social media, etc., it's possible to mobilize millions in a matter of days and to affect a revolution. We have no excuse to be silent about what is happening in China.
"Ask any five-year-old and they will tell you that it is wrong to kill someone, steal their organs and sell them, no matter what country or culture around the world."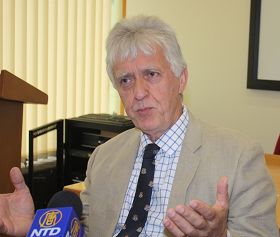 Macquarie Radio's breakfast program host Gareth McCray
During the question and answer session, Macquarie Radio's Mr. Gareth McCray, host of the 2CH Breakfast Show, stated that a solution is needed internationally. He said that sitting there and doing nothing would be the equivalent of extending the crime. He urged people to step out and show their concern, adding that collecting signatures to support a debate in NSW would be a first step.
MP Jamie Parker remarked that a good number of MPs attended the conference and heard about the issue of organ harvesting in China. He concluded the meeting with a call to action: "The atrocity must stop."