Taipei, Taiwan: Practitioners Spread the Facts About Falun Gong and Welcome Chinese New Year (Photos)
January 21, 2012 | By Fang Hui and Liu Hsin-wen, Clearwisdom correspondents
(Clearewisdom.net) On the morning of January 15, 2012, Sunday, near one thousand Falun Gong practitioners gathered at Shihlin Residence (the former residence of late President Chiang Kai-Shek of Republic of China), Taipei, Taiwan to express their Chinese New Year greeting to Master Li.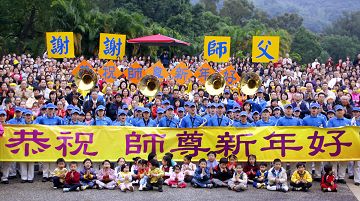 The practitioners wish Master Li a Happy Chinese New Year.
When tourists walked into the Shihlin Residence, they could see a large banner with words "Falun Dafa is great" and receive greetings from warm-hearted Falun Gong practitioners. The melodious music and practitioners practicing the exercises also drew the attention of tourists. Many tourists from the Mainland paused to view a poster. One man called his companion and said while pointing at a poster with "International Arrest Warrant", "Come to take a look. These people (the culprit Jiang Zemin and other perpetrators s in the persecution of Falun Gong) are being brought to justice in the world's courts." Such happenings have become commonplace at many of Taiwan's tourist attractions over the past 12 years.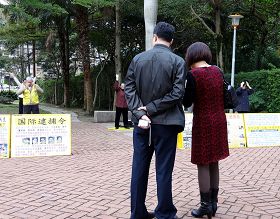 One man called his companion to look at a poster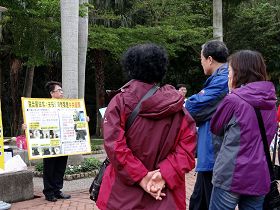 Many Mainland Chinese tourists view posters with Falun Gong information
These posters illustrate the fact that Chinese Communist Party (CCP) brutally persecutes Falun Gong practitioners in China. For example, CCP harvests vital organs from live Falun Gong practitioners, imprisons and tortures Falun Gong practitioners, and staged Tiananmen self-immolation incident to frame Falun Gong. Some posters also carry the information of wide spread of Falun Gong across the world.

Divine Land Marching Band performs to wish Master Li a happy Chinese New Year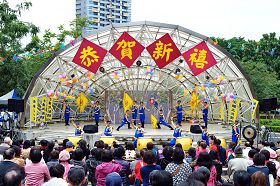 New Tang Dynasty Flag and Drum Troupe performs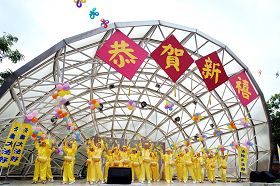 Waist Drum Troupe performs
When tourists entered the park, they saw a concert celebrating Chinese New Year given on the outdoor stage by Falun Gong practitioners. There were exciting performances by Divine Land Marching Band, New Tang Dynasty Flag and Drum Troupe and the Waist Drum Troupe.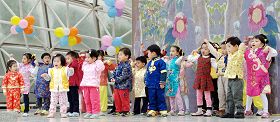 Children from Mignhui Kindergarten perform, drawing applause.
Ms. Chang is currently doing research at Technical University Darmstadt in Germany. She returned to Taiwan for a vacation to celebrate the Chinese New Year at home. She was pleased to see the practitioners at information desk. She said she knew about the persecution of Falun Gong as she saw practitioners practicing the exercises and collecting signatures in Germany. She stayed quite a while in the desk and listened to a practitioner's explanation on how to learn Falun Gong and benefits after practicing. She felt the practitioner's sincere attitude and left her contact information in Germany. She expressed the wish to start practicing Falun Gong after she returns Germany. "Thank you very much," she said as she left.
Ms. Chou Yi-yi is a mother of three children. She said the biggest change she experienced after practicing Falun Gong was to have a much calmer heart. Due to her father's early death, she realized that human life is just like a dream. So she lived aimlessly and lost in fame and personal interest. After beginning to practice Falun Gong in 1994, "I regretted that I drifted along with the society. Falun Dafa gives me true serenity and all answers in life."
She continued, "My father was well known as a hot tempered man. He used to curse my mother. This harsh environment led me develop a bad temper, which went occasionally out of control. After practicing Falun Gong, I controlled it bit by bit. Even my mother notices how I've changed for the better."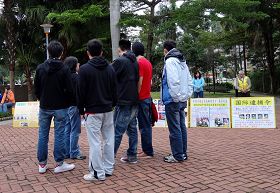 Young tourists from Hong Kong listen to a practitioner's explanation
Falun Gong practitioners welcome the coming of mainland Chinese tourists and distributed Falun Gong information materials. Practitioner Liu said, "We welcome the arrival of mainland Chinese tourists. Taiwan is a place of freedom. Mainland Chinese tourists can put down their guarding attitude and learn about the fact of Falun Gong. It is not easy for them to come abroad. We hope they can understand."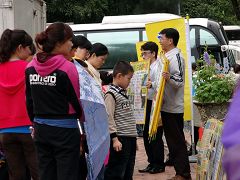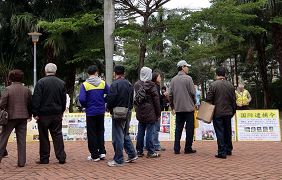 Mr. Peng said that an entire tour group came to read the posters.
Mr. Peng, a tutor, pointed out that, "Many tourists from Mainland China come to view the posters about Falun Gong and the persecution. They listen to practitioners' explanations carefully, or read Falun Gong information materials during their breaks. The situation has changed a lot compared to a few years ago."
The event concluded at 4:30 pm after group practice and the performance of the band.