Young Man Still Cannot Return to School after Being Persecuted by the 610 Office in Beijing
June 18, 2011 | By a Clearwisdom correspondent from Beijing, China
Name: Wang Yu (王雨)
Gender: Male
Age: 17
Address: Beizhuang Village, Changling Town in Changping District, Beijing
Occupation: First-year student at the Beijing Electronic Technology Professional School (Automation Engineering College)
Date of Most Recent Arrest: December 24, 2010
Most Recent Place of Detention: Brainwashing center in the Changping District, Beijing (北京市昌平区的洗脑班)
City: Beijing
Persecution Suffered: Brainwashing, physical restraint, detention
(Clearwisdom.net) Wang Yu, a young scholar, was arrested by the 610 Office for clarifying the truth about Falun Gong at his school. He is still unable to return to school to resume his studies.
Wang Yu has been practicing Falun Dafa since his childhood. After understanding the principles of Truth-Compassion-Forbearance, he always followed them.
Wang Yu clarified the truth about Falun Gong to his classmates and teachers in his school (Beijing Vocational College of Electronic Science and Technology - Automation Engineering, which is located in the Yizhuang School District in Daxin, Beijing). On December 24, 2010, he was arrested by Zhang Huiqing, the Chinese Communist Party secretary of his school, and Du Tong and taken to the brainwashing center in Huzhuang Village, Changping District. He was persecuted for 13 days.
Since his return from the brainwashing center, Wang Yu has been monitored and harassed by agents appointed by the Changping District 610 Office. He still cannot return to school to study.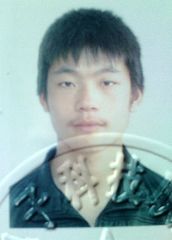 Wang Yu's student ID photo
At around 8 p.m. on May 31, while Wang Yu and his family were having dinner, Sun Aiping, vice director of the Changping District 610 Office, and about six police officers, including Chen Hailong from Changling Township, went to Wang Yu's home. They intended to arrest him but he did not cooperate. Sun Aiping told Wang Yu that they just needed to "get more information." Wang Yu told them, "I do not have anything to tell you." Chen Hailong said, "Let's go, we just need to get more information." Wang Yu said, "Then you can get it here." Sun Aiping said, "No, we have to follow the rules."
Wang Yu refused to go with them. Sun Aiping opened a closet, ostensibly to find clothes for him but actually he was looking for Falun Gong-related materials. He told Wang Yu to get dressed and go with them. Wang Yu said, "I practice Falun Dafa. Whether I go or not is up to my Master. Everything about me is decided by my Master. No one else can do it." Sun Aiping said, "So you want us to use force?" Sun Aiping and Chen Hailong then grabbed Wang Yu's hands. Wang Yu said, "Today let me see who dares to touch me." Then Sun Aiping sat down on the couch. Wang Yu continued to reason with them about the law and about retribution and asked Sun Aiping to leave.
Due to Wang Yu's adamant resistance, Sun Aiping and his cohort left to talk with other police officers about what to do. The police came in again and tried to trick Wang Yu into providing more information. Wang Yu said, "I do not know anything other than that Falun Dafa is good; Truth-Compassion-Forbearance is good." Wang Yu also told the police to choose a good future for themselves and to stop persecuting Falun Gong practitioners and quit the CCP for their own safety. After four hours of stalemate, the officials left Wang Yu's home at round 1a.m.
At around 5 a.m. on June 1, before Wang Yu and his family got up, someone shouted, "Open the door!" from outside. Wang Yu's grandmother opened door. Four police officers came in, led by Tian Dama. They stayed for more than 20 minutes, then left.
On the same day at around 5 p.m., two more policemen went to Wang Yu's home to harass him. They told Wang Yu to stay at home and not go anywhere. One of the policemen was Wang, and the other one did not disclose his name. Officer Wang told Wang Yu and his family, "Do not go anywhere. If you do, they (the 610 Office) will really come to arrest you. Now it is very critical. Once they find you, you will be arrested."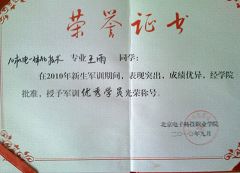 The "Honor Certificate" received by Wang Yu during his military training
In the evening, officer Li, who had visited Wang Yu's home before, and another policeman went to Wang Yu's home. When Wang Yu asked them what they wanted, they replied that they were there to get more information.
Wang Yu's 80-year-old grandmother and 77-year-old grandfather usually go to sleep at around 8 p.m. Because the 610 Office had assigned police to harass them for two days running, the old couple were very worried about the safety of their grandson. They dared not rest and did not go to sleep until the police left.
Wang Yu's parents are simple farmers. They leave for work at 5 a.m. every day. After the police left, Wang Yu's parents were so worried that they did not go to work the next day.
Believing in Truthfulness-Compassion-Forbearance, Wang Yu has always lived by the principles of Falun Dafa. He has been a good student at school and his grades always rank among the top five in his classes. This outstanding young man has been persecuted by the Beijing 610 Office for the past six months. Wang Yu still cannot return to school to resume his studies, and the police assigned by by the 610 Office still harass him.
A partial list of those involved in persecuting Wang Yu:
Qi Bingrui, director of the Changping 610 Office
Sun Aiping, 53, female, vice director of the Changping 610 Office in Beijing (Since 2002, she has been actively persecuting Falun Gong practitioners. She always brags: "I arrest every Falun Gong practitioner that I see. Every practitioner that I arrest, I sentence them to labor camps or jails. I will do this until I get all the Falun Gong practitioners to jail."): 86-13651051478(Cell)
Lian Xueyu, chief of the Changping 610 Office, demobilized military tank crew (During the Tiananmen Massacre in 1989, he drove a tank into Tiananmen Square: 86-13681027211(Cell)
Liu Xindong, staff, Changping 610 Office (He has participated in trying to "transform" practitioners multiple times.)
Cai Huichang, chairman of the Changlig Township Police Station (He has been persecuting practitioners since 1999.)
Yan Shaocai, director of the Changlin Police Station, involved in persecuting and trying to "transform" practitioners
Related article: