Munich, Germany: Practitioners Celebrate World Falun Dafa Day and Wish Master Li Happy Birthday (Photos)
May 15, 2011 | By De Xiang, Clearwisdom correspondent
(Clearwisdom.net) On May 12, 2011, Falun Gong practitioners in Munich held a celebration event on Marienplatz, a public square in downtown, to celebrate the 12th World Falun Dafa Day and wish Master happy birthday.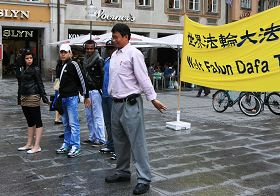 Tourist from France learns the Falun Gong exercises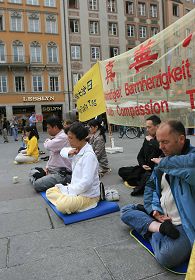 Falun Gong exercise demonstration
Falun Gong is also known as Falun Dafa. Master Li introduced Falun Gong to the public on May 13, 1992, and it has spread to over one hundred countries.
At 3 p.m., the practitioners held celebration activities on the square. As they demonstrated the exercises, many people stopped to watch and some started to learn on the spot. They also asked for more information about Falun Gong. After finding out that Falun Gong is being persecuted in China, many people were shocked and signed a petition condemning the CCP's persecution.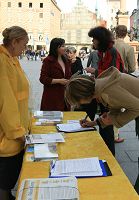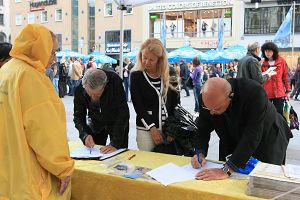 Signing a petition calling for stopping the CCP's organ harvesting from living Falun Gong practitioners
Mr. Eitel and his wife passed by the Marienplatz. They supported the Falun Gong practitioners' efforts and signed a petition against the CCP's live organ harvesting. Mr. Eitel heard about the CCP's persecution of Falun Gong from a practitioner's presentation. He said that he objected to any such persecution and violation of human rights. His wife said, "I object to this persecution of human rights too. I signed the petition because I support human rights and freedom of speech. One should not be punished for speech. It is a must for each society."
Many Chinese tourists passed by Marienplatz. Some read out the words on banners, and some talked with the practitioners. Some of them even renounced the CCP and its affiliated organizations on the spot.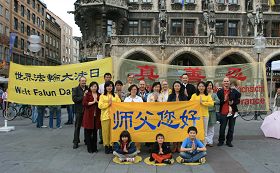 Practitioners in Munich wish Master happy birthday