New York Practitioners Celebrate World Falun Dafa Day; State Legislator Praises Falun Dafa at the Event (Photos)
May 15, 2011 | By Minghui correspondent Cai Ju
(Clearwisdom.net) May 13 is a great day for Falun Dafa practitioners all over the world. To celebrate the 12th World Falun Dafa Day, the 19th anniversary of Falun Dafa's public introduction and Master's birthday, and to express their gratitude to compassionate Master, close to one thousand Falun Gong practitioners in New York gave performances on Union Square in Manhattan on May 13, 2011.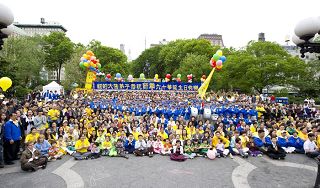 Practitioners in New York wish Master Happy Birthday.
Colorful balloons, flags and banners adorned Union Square. Mr. Lin, a Chinese-American, said cheerfully, "Falun Gong is great! That's why I came to visit."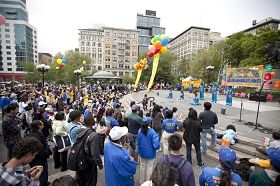 Group exercise
Practitioners did the Falun Gong exercises together in the morning. It was a grand and peaceful scene! Practitioners of different ethnic backgrounds and ages looked happy and in high spirits. After the exercises, they gathered on the stairs on the square, pressed their hands in front of their chest, and wished Master Happy Birthday together. Many of them were in tears, thinking of Master's great compassion.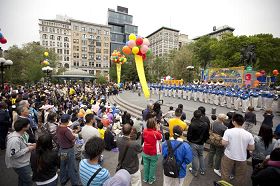 Falun Dafa day celebration
The Divine Land Marching Band started the celebration in the afternoon. Falun Dafa practitioners shared their gratitude and joy with various performances, including lion dancing, folk dances, songs, and exercise demonstrations.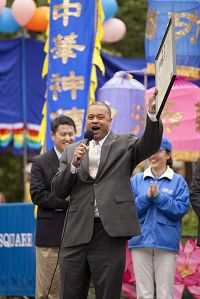 New York State Assembly member Mr. Stevenson
New York State Assembly member Mr. Stevenson issued a proclamation to Falun Gong practitioners and shouted "Falun Dafa Is Great" in Chinese at the beginning and the end of his speech during the World Falun Dafa Day celebration. The audience gave him warm applause.
Mr. Stevenson expressed his strong support of Falun Gong. He hoped to see Falun Gong grow and many more millions of people joining in. He hoped that President Obama would take action to help stop the persecution of Falun Gong in China.
Tenzin Darjye, a Tibetan monk, made a special trip to deliver his congratulations. He said, "Falun Gong is a great cultivation practice. I had heard of it a long time ago. I have read Falun Gong books. I believe that a dedicated practitioner will reach a very high level for sure."
Chinese-American and Christian Mr. Lu Dong said, "Happy birthday to Mr. Li Hongzhi!" He thought that the root of the problems in China was the loss of spiritual belief. The pursuit of Truthfulness, Compassion and Forbearance is beneficial to society as a whole. "Falun Gong practitioners' peacefulness, gentleness and persistence have sustained their efforts against the persecution for the past twelve years. It has awakened more and more Chinese, including me. I want to take this opportunity to tell Falun Gong practitioners, 'Stand firm on your belief. Stand firm on Truthfulness, Compassion and Forbearance!'"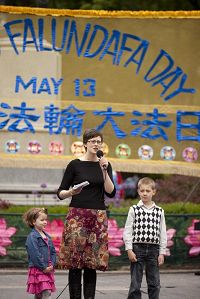 Falun Gong practitioner Kay Rubacek shares her cultivation experience.
Falun Gong practitioner Kay Rubacek shared her cultivation experience in the past thirteen years. She said, "I can spend a whole day telling you how much benefit Falun Gong has given me." She used to have bad pain in her back and neck. She had to resign from her job and try different medical treatment. Despite expensive medical treatments, nothing worked for her. She first heard about Falun Gong in August of 1998. Her life changed after beginning to practice. "I can stand here to talk today. I have a healthy son and a healthy daughter. It was Falun Dafa that gave me everything. If it weren't for Falun Dafa, I can't imagine that I would ever have all that I have now. I deeply appreciate Falun Dafa, and thank Master!"
Kay and thirty-five other Western practitioners unfolded a banner reading "Truthfulness, Compassion, Forbearance" on Tiananmen Square on November 20, 2001. They went to tell the Chinese people, "Falun Dafa is great!"
Matt Tullar started practicing Falun Dafa seven months ago. He said, "I'm a new practitioner. I started reading the book and thought it was interesting. I got to know many people after I started practicing Falun Gong. They are very nice people. Later, I experienced increased energy. I climb stairs now two steps at a time. I can do a lot of things and stay up late, but I don't feel tired. I feel great!"
On May 3, 2011, the New York State Senate passed Legislative Resolution No. 1450 recognizing May 2011 as World Falun Dafa Month. On May 10, New York State Assembly Member Eric Stevenson read the proclamation at assembly, praised Falun Dafa's contribution to the state of New York, and announced May as Falun Dafa Month. On May 11, the Senate and General Assembly of the State of New Jersey issued a Joint Legislative Resolution acknowledging World Falun Dafa Day and commending Falun Dafa practitioners for their commitment and dedication to this advanced cultivation and practice system.