Hawaii: Falun Gong Practitioners Call for the End to the Persecution at APEC Summit (Photos)
(Clearwisdom.net) The APEC Summit was held in Honolulu, Hawaii on November 12-13. More than 100 Falun Gong practitioners took this chance expose the brutal persecution to the government officials from all over the world, and called for it's end.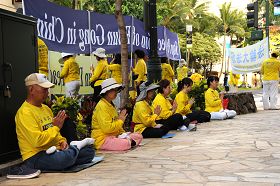 Falun Gong practitioners protest against the persecution in China at the APEC Summit in Honolulu, Hawaii
Waikiki in Honolulu is a famous tourist spot, and many attendees of the summit stayed in the hotels in this area. Falun Gong practitioners held banners in Waikiki, telling people the beauty of Falun Gong, and its spread around the world.
Not only local citizens and participants of the conference, but also media, including the Associated Press and Reuters, were attracted to the practitioners' events. The report from Reuters briefly reviewed the facts of the persecution.
Ms. Chen Yingting, a practitioner from Taiwan, said, "The persecution in China has been going on since 1999. We are taking this chance to let more people, especially the government officials from all of the world, know about it, and ask them for help." "Our goal is very simple—stop the persecution, and our actions are peaceful," she said.
Lon Malapit, a local radio station manager, had never heard about Falun Gong, but he said that he liked the values that practitioners are protecting, "Truthfulness-Compassion-Forbearance."
Willis Powell, a veteran, commented that practitioners are peaceful. What they are pursuing is the same as our ancestors who came to the Americas in the 17th and 18th centuries: freedom.