New York City: Local Falun Gong Practitioners Participate in the Veterans Day Parade (Photos)
(Clearwisdom.net) November 11, 2011 marks the 92nd Veterans Day in the U.S.A. The Veterans Day Parade in New York City is one of the biggest celebrations in the country. More than 20,000 people participate in the parade every year, including military and government officials, and 400,000 people watch it.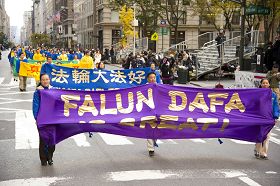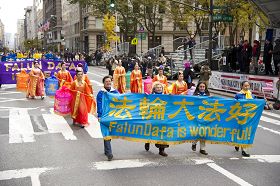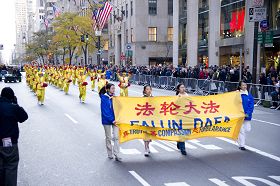 Falun Gong group in the parade
Falun Gong practitioners from New York have participated in this parade every year since 2004. This year, the parade started off from the intersection of Fifth Avenue and 26th Street, proceeded for 30 blocks, and ended on 56th Street four hours later.
Falun Gong practitioners demonstrated the exercises, and included fairy dancers, and a waist drum troupe. Besides spreading the beauty of Falun Gong, they also exposed the brutal persecution of Falun Gong in China. The spectators warmly welcomed them.
Mr. Chen, a Chinese practitioner, just came to the U.S.A. this year. He was jailed in a forced labor camp in Jiangsu Province, China for a year because he practices Falun Gong, where he was brutally tortured. He called upon international society to pay more attention to the human right violations in China. He is happy that he can practice Falun Gong in the free land of America.