Ottawa, Canada: Falun Gong Stands Firm Despite Eleven-Year Long Persecution (Photos)
(Clearwisdom.net) On July 18, 2010, prior to the eleven-year anniversary of the Chinese Communist regime's persecution of Falun Gong, One Free World International and the Canadian Falun Dafa Association held a rally on Parliament Hill in Ottawa. Falun Gong practitioners and supporters called upon the Canadian government to urge the Chinese Communist Party (CCP) to stop the persecution of Falun Gong, and immediately release all illegally detained practitioners, including Canadian citizens' relatives.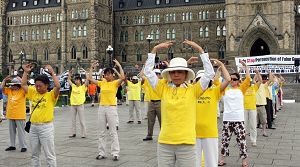 Practitioners demonstrate the exercises in front of Parliament Hill
Rev. Majed El Shafie, founder and president of One Free World International made a special trip from Toronto to Ottawa to support Falun Gong.
He said in his speech, "Eleven years ago, July 20, 1999, the Chinese government (Note: the Jiang Zemin and Luo Gan clique colluded with the CCP, making the Chinese government a tool) declared a war against the Falun Gong and their belief. They declared a war against human rights, freedom of religion. Eleven years later we are standing up here in Ottawa, Toronto, and Vancouver, and around the world, they will never ever succeed to stop the Falun Gong movement."
Pastor Lyle Notice of the Ottawa Seventh-day Adventist Church spoke at the rally to lend his support.
He said, "As a preacher of the gospel, I believe that Jesus would be on these very steps right now. ...I believe that as we stand here today, as we continue to stand, change will come."
"I believe what they (CCP) are doing to the Falun Gong is wrong. We're not going to stay quiet. We're going to stay preaching. We're going to stay speaking. We're going to tell the world that this is wrong in China and it is wrong anywhere else in this world. We are humans, and every human deserves rights. Every opportunity should be equal. As long as we gather together here in unity. I believe today we're making a difference."
Francis Yel from the South Sudan-Canada Association attended the rally, and said, "We are here today because of the people in China who are suffering, day by day, night by night. We are here to call Canadian parliamentarians and senators and Canadian citizens to support people who are suffering in China. I am also calling politicians not to give up. They should have to take more and more actions, even the cutting of trade between China and Canada should have to take action. ...We are not against China, but what we need is change. Many people live in peace, live and practice [their beliefs] in peace. ..."
Hon. David Kilgour, former MP and Secretary of State for Asia-Pacific said that the CCP must stop the catastrophe launched in 1999, as more and more people in the world are aware of the CCP's crimes against humanity and are calling for an immediate end to the persecution of Falun Gong. He also said that the CCP has slandered Falun Gong using the entire country's media, and the most shameless lies, and all types of means to persecute those who remain steadfast in their beliefs. Mr. Kilgour commended the group, saying that over the past eleven years, Falun Gong practitioners have drawn attention from the world's people in a peaceful and rational manner, exposing the Chinese regime's atrocities so as to end the persecution.
Falun Dafa Association President Li Xun said that July 20, 1999, former CCP leader Jiang declared that they would "eliminate Falun Gong in three months." Now, eleven years later, despite the genocidal campaign that continues today, the Falun Gong group remains strong in its beliefs. He said that the CCP slandered Falun Gong and subjected practitioners to arrests, detention, brainwashing sessions, and abuse and torture in order to try to force the practitioners to give up their beliefs. As discussed in the conclusion of the investigation report by Canadian investigators David Kilgour and David Matas, organ harvesting of living Falun Gong practitioners has occurred on a large scale, challenging humankind with an unprecedented evil.
Mr. Wang Xiaohua from Montreal said that the persecution targets all people. He said that he was detained in a forced labor camp in Yunan Province for two years. During this period, he was forced to do hard labor, without any safety precautions or consideration for practitioners' well being. So it seemed strange to him when he and all other detained practitioners were made to undergo a complete physical examination, including X-rays, EKG, and blood tests. He said, "It was when the report by Kilgour and Matas came out that we realized our personal data was collected as a source to match the organs for transplant."
Mr. Wang came to Canada five years ago. He said his experience of having lost the freedom of belief made him especially cherish freedom now.
Rev. Majed El Shafie said, "This issue of the persecution of Falun Gong does not only belong to the Falun Gong people. It belongs to every human being. As an Egyptian, as a Canadian, standing up here with you, even though we don't share the same beliefs, we share the same value of human rights."
He said that no matter how much propaganda the Communist regime puts out or how brutal they are, people who know the truth will not be afraid and will not give in. He said to the persecutors, "You can kill the dreamer, but no one can kill the dream."
Background
Falun Gong, also known as Falun Dafa, is a traditional Chinese spiritual discipline for mind and body. The practice involves slow, gentle movements and meditation. It is easy to learn, enjoyable to practice, and free of charge. Its principles are based on Truthfulness-Compassion-Forbearance. The practice began in China in 1992 and quickly spread by word of mouth throughout China and then beyond. Its beneficial effects in uplifting an individual's physical, mental, and spiritual health, not to mention its positive influence in the community and society as a whole, have been undeniable. In fact, Falun Gong is practiced by over 100 million people in 60 countries. The main works of Falun Gong are available in over 30 languages.
On July 20, 1999, the Chinese Communist Party (CCP) launched a brutal persecution of Falun Gong. Since the start of the persecution, Falun Gong practitioners throughout the world have been constantly speaking out about the truth of Falun Gong and exposing the CCP's crimes in a tireless effort to end the persecution.