Fei Tian Academy of the Arts California Opens to Students (Photos)
(Clearwisdom.net) Fei Tian Academy of the Arts California started courses of Chinese classical dance on March 1, and academic programs of middle and high schools on March 29, 2010. Recently, Director Hongwei Lou of the Academic Department of the academy spoke about the school.
Fei Tian Academy of the Arts California located in Northern California Design District
Fei Tian Academy of the Arts California is recruiting students
Ms. Lou introduced the mission of the academy: To provide world-class dance, music, and fine arts instruction beyond the regular curricular requirements and offer unique performance opportunities for its students; to promote cultural awareness and appreciation of the traditional arts of China through performances, exhibits, exchange, workshops, publications, and productions; and to restore and revive the Chinese classical arts of dance and music.
For the academic programs in the academy, Ms. Lou said, "Like other private or public schools in California, our academy provides full academic programs of middle school and high school according to the curricular requirements of the Department of Education and the California university system. We have high level faculty with advanced degrees. We have studied and designed our academic programs carefully." She also said the academy would get faculty support from Fei Tian Academy of the Arts New York.
Ms. Lou said, "We provide first class courses on Chinese classical dance, as well as high level curricular courses, including English, mathematics, science, social sciences, Chinese, Chinese traditional culture, etc. We offer both English and Chinese language courses. It is a good Chinese language environment. Students can improve their listening, reading, speaking and writing skills quickly."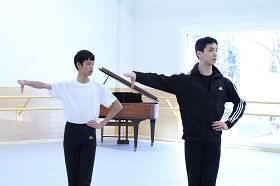 The ratio of teachers to students is high in Fei Tian Academy of the Arts California
Ms. Lou said, "It is our policy to have plenty of teachers. Since we are an arts academy, students spend half their time on dancing and less time on academic courses. Our goal is to have the students accomplish as well as or better than students in average middle and high schools. Reaching this goal is not hard, but can be done with improved efficiency. Thus we have small classes to let each student receive the full attention of the teachers. Our courses are arranged tightly and efficiently."
Small class teaching is adopted in Fei Tian Academy of the Arts California
Currently, Fei Tian Academy of the Arts California has full-time classes, after-school classes and weekend classes. The full-time and after-school classes are for students over 12 years old. The weekend classes are for students over 6 years old. Also The academy has weekend adult classes.
In addition, the 2010 academy summer class is accepting applications. The summer class will have two sessions. The first session runs from June 21 through July 23 and the second session is from July 26 through August 20. Children over 9 years old can apply.
For additional information or applications, please visit http://www.feitian-california.org. The address of the academy is 101 15th Street, San Francisco, CA 94103, U.S.A.