Falun Gong Parade Video Selected for Bendigo City Promotion Package (Photos)
April 09, 2010 | By a Falun Dafa practitioner from Melbourne
(Clearwisdom.net) On April 5, 2010, Falun Gong practitioners participated in the 140th Easter Parade in Bendigo, Australia. This is the tenth time that Falun Gong has been invited to participate. In past years, the group has won many awards including "Best Community" and "Best Depiction of the Theme." The celebration organization committee also included a video of Falun Gong's parade entry in the promotion materials of the city.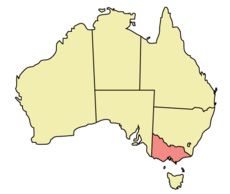 Geographic location of Victoria Province, Australia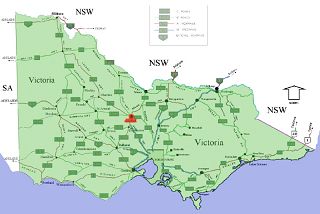 Geographic location of Bendigo in Victoria Province, Australia
Victoria Province is located at the southern end of Australia and is often called the Garden Province. In history, Bendigo is remembered for the gold rush. The Chinese called the city "the big gold mountain" and it was one of the cities where early Chinese immigrants resided. The Bendigo Easter Parade started in 1871 and it has the longest history in Australia.
This year, the event's theme was "Past, Present and Future." From April 2 to 5, there were numerous celebration activities in the city including concerts, fireworks and an Easter egg hunt. The Easter Parade on Monday was the peak of the celebrations.
Falun Dafa group participates in the 140th Easter Parade in Bendigo Australia, 2010
There were several bands in the parade. Among them, the Divine Land Marching Band, composed of all Falun Gong practitioners, stood out for its size and almost all Chinese members. Their uniforms were white and blue ancient Tang Dynasty style. The Falun Gong group also had a flag section with colorful flags with the words "Truthfulness," "Compassion" and "Forbearance," a fan dance, a waist drum team and an exercise demonstration.
The parade route was about 5 kilometers long. Along the route, spectators applauded the Falun Dafa group and people praised, "Falun Dafa! It's great!" Event organizers raised their thumbs to the practitioners when the Falun Dafa group marched by. Some people asked for more information about Falun Dafa.
Resident of Bendigo, Andrew Naughton, his wife and daughter watched the parade. "This is our third time watching the parade," Naughton said. "It is very exciting this year. Among the community performances, I was most impressed by the Falun Gong meditation on the float. It is very different from others. Very peaceful. In such an environment, they were very concentrated and quiet." His wife added, "I like the lotus flower on their float. Very beautiful!"