Switzerland: Tourists and Residents in Lucerne Show Their Support for Falun Gong
October 06, 2010 | by Swiss Falun Gong practitioners
(Clearwisdom.net) Lucerne is a renowned tourist destination in Switzerland. In the past six years, Falun Gong practitioners have been setting up an information table every month during the tourist season, helping tourists from around the world as well as local residents learn about the brutal persecution of Falun Gong in China. Many residents here are already familiar with the practitioners' information booth. Many have stopped to sign the petition and asked what they could do to help.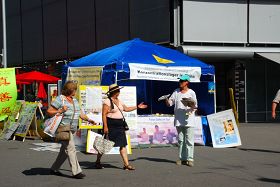 Falun Gong practitioner passing out informational materials.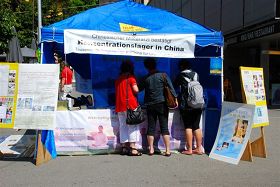 Many people sign the petition calling for the end to the persecution.
The famous Lion Monument in Lucerne attracts tourists from around the world. The practitioners' information booth is set up near the entrance to the monument. Many Chinese tourists also pass through here, so practitioners put out display boards in Chinese as well. More and more Chinese visitors have come to the information table to learn about the persecution.
One afternoon, a Western practitioner was practicing the exercises beside the tent. Suddenly he heard some whispers. A group of Chinese tourists surrounded him and were watching him with surprise. There are still many Chinese people who don't know that Falun Gong has spread to over one hundred countries in the world and is widely welcomed. These Chinese tourists were surprised to see a Westerner practicing Falun Gong. Some of them took photos of him and others videotaped the display boards exposing the torture.
The posters exposing the persecution deeply moved a young couple. The gentleman was from Brazil while the lady was from South Korea. The young man said that he studied in China for a few months. He got to know many Chinese students and also witnessed many atrocities committed by the Chinese Communist regime. Both of them signed the petition to support Falun Gong and stop the persecution.
A well-known Swiss theatre actor happily accepted materials from a Falun Gong practitioner. He told the practitioner that he would learn more about Falun Gong and praised practitioners' efforts in exposing the situation to the world.