Munich, Germany: Practitioners Raise Awareness of the Persecution During Oktoberfest (Photos)
(Clearwisdom.net) 2010 is the two hundredth anniversary of the famous Oktoberfest, and many people from Germany and different parts of the world filled the streets of Munich for the festivities. On September 25, Falun Gong practitioners held an activity in Malin Square to raise awareness about the persecution in China. The activity drew a lot of attention and many stopped to learn more and sign the petition. Many tourists were from mainland China, and they also took materials, curious to learn more. About seven or eight Chinese people who stopped to learn about the persecution decided to formally quit the Chinese Communist Party.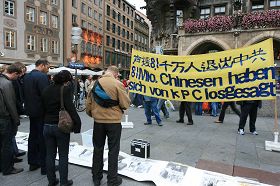 At Malin Square in Munich Germany, Falun Gong practitioners held activities to raise awareness.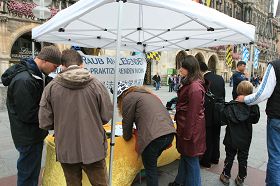 People line up to sign the petition condemning the CCP's atrocities
A government employee from Munich had once met a Falun Gong practitioner handing out flyers to tourists from mainland China in front of the Chinese embassy. She was curious and wanted to know what the contents of the materials were, but she didn't understand the Chinese materials, and the practitioner's German was not fluent enough to explain the situation. As luck would have it, the woman passed by and saw the activity that Falun Gong practitioners were holding in Malin Square, and she recognized the same practitioner again. She was not hesitant to ask for German materials, and looked at photo display, and signed the petition. She said that she believed that goodness would prevail over evil and that it wouldn't be long before the situation would change for the better.
A young German girl named Maria, is a middle school student, and had once lived in Anshan for ten months as an exchange student. She signed her name to oppose the persecution and mentioned an experience she had in Anshan. One day, a student from the same school walked past her, and she didn't know why but she was curious about that student. But the Chinese fellow students around her all blocked her way, not letting her speak with that student, and they said that the student was a practitioner of Falun Gong, and that he was mentally abnormal.
Maria was disturbed by this, and later she checked online to find out what Falun Gong is, and discovered that it is a good practice that has been persecuted and slandered, which explained the Chinese students' misguided actions. After having this experience, she realized how seriously Falun Gong practitioners in mainland China are persecuted. And because of this, upon seeing the local practitioners' activity, she signed her name without hesitation to support Falun Gong.