International Truth-Compassion-Forbearance Art Exhibition Held in Saitama, Japan (Photo)
August 24, 2009 | By a practitioner in Japan
(Clearwisdom.net) From August 13 to August16, 2009, the International Truth-Compassion-Forbearance Art Exhibition was held in Saitama, Japan. This was the 17th time that the art exhibition was shown in Japan. The exhibition coincided with Japan's traditional Obon Festival, and many people were visiting the area. Many local government officials and other people came to view the paintings.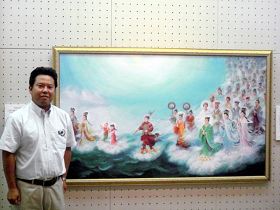 Masato Suzuki, Council Member of Saitama Prefecture, in front of the painting "Vow"
Masato Suzuki, Council Member of Saitama Prefecture, came to view the paintings on the second day of the exhibition. He had his picture taken in front of the painting, "Vow". He said he had heard of the Chinese Communist Party's (CCP) brutal nature, but he had not realized that the CCP was so cruel. After viewing the paintings, Mr. Suzuki came to know more about the CCP's nature. He encouraged the staff of the exhibition to keep up their good efforts.
On the first day of the show, a Chinese person came to the exhibition. After he looked at the paintings, he said that he had seen the paintings in previous exhibitions, but after learning that there would be new artwork this time, he came to see it again. He also helped the exhibition staff to set up the venue. He said he knew about the CCP's brutality, but in China, facing the armed police's guns, the majority of China's citizens keep silent and submissive. This gentleman admired Falun Gong practitioners' uncompromising courage in facing the CCP's persecution.

After viewing the paintings exposing the CCP's torture of Falun Gong practitioners - brutal beatings, hanging practitioners up, injecting them with harmful drugs, and harvesting organs from living practitioners - many Japanese visitors condemned the CCP's crimes in the persecution of Falun Gong.
When he learned that that all the exhibition staff members were volunteers, a Japanese visitor dressed in Tang clothing the next day and delivered soft drinks and snacks to them. Some religious people said, after viewing the paintings, that the CCP's crimes were unpardonable and that both humans and God were indignant upon witnessing the persecution.