Taiwan: Divine Land Marching Band Participates in Kaohsiung's Qiaotou Township Flower Festival Parade (Photo)
December 03, 2009 | By a Falun Dafa practitioner from Kaohsiung, Taiwan
(Clearwisdom.net) On November 28, 2009, the Qiaotou Township in Kaohsiung County kicked off its annual month-long flower festival. The Divine Land Marching Band, composed entirely of Falun Gong practitioners, was invited to participate in the parade on opening day.
Over fifty groups totaling nearly 2,000 people participated in the parade. The parade processed through the main streets of Qiaotou Township, led by the Mayor Mr. Shu Chongming and other local officials and community leaders. The parade marked the start of the month-long event.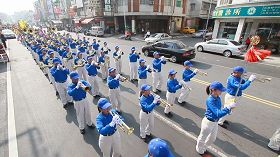 The Divine Land Marching Band participates in Qiaotou Township's annual parade.
This is the second year that the Divine Land Marching Band was invited to perform in the annual flower festival. Township Mayor Mr. Shu had words of admiration for the practice of Falun Gong, stating that the exercises are very beneficial to both mind and body.
On November 29, there was also a demonstration of the Falun Gong exercises at Wulin Elementary School.