Belgium: People Around the World are Watching the CCP-Inspired Violence in Flushing, New York (Photos)
June 09, 2008 | By a Belgian practitioner
(Clearwisdom.net) On May 30, practitioners in Belgium gathered outside the Chinese Embassy in Brussels to protest the Chinese Communist Party (CCP) for demonizing Falun Gong and inciting local Chinese to attack practitioner volunteers of the Tuidang (Quitting the CCP) Service Center in Flushing, New York City.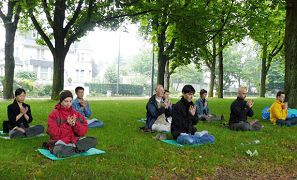 Belgian practitioners protest CCP violence outside Chinese Embassy
While the CCP is facing huge complaints over its tactics in handling the Sichuan Earthquake, to divert public attention, the regime has started a political campaign to demonize Falun Gong. Since May 17th, Chinese Consulate in New York City has been instigating overseas pro-communist groups and hired thugs to attack Falun Gong practitioners at the Tuidang Service Center in Flushing, New York.
Practitioner Qu told the reporter that the Chinese Consulate General in New York has acknowledged that the consulate was behind the violence in the community with a high Chinese immigrant population.
"We are here to protest the CCP's new move to intensify the persecution of Falun Gong," Qu said, "While many families are suffering from the Sichuan Earthquake, instead of focusing on quake rescue and relief, the communist regime has politicized the quake, falsely accusing Falun Gong of blocking relief fund raising in Flushing. This is just another lie spread by the regime to demonize Falun Gong. Many practitioners have donated through various charity organizations such as the Red Cross. This charge is just to incite hatred against Falun Gong in order to divert public attention at this critical moment."
Ms. Uria Wu is from Brussels, and she said: "I went to New York several days ago and participated in a parade in Manhattan's Chinatown. I saw pro-communist Chinese who were cursing at us. Clearly, the CCP is instigating hatred in oversea Chinese communities. I am here today to tell the CCP that it is totally wrong and it will not achieve anything."
Nele, a middle school teacher from Aike Luo, said: "I saw the violence in Flushing on the TV news. I was very sad and shocked. The CCP is doing everything possible to dodge its fate. However, I want to tell it that it has no right to attack Falun Gong practitioners."
Ghent scientist Janniek has a doctor's degree in Biology. She said: "As Falun Gong practitioners, we are one with practitioners in Flushing. We are here to let the CCP know that what they are doing is being watched by the whole world, and we won't tolerate this violence."