Canada: Raising Awareness about Falun Gong at Multi-Cultural Festival in Kitchener-Waterloo (Photos)
June 26, 2008 | By a Canadian Falun Dafa practitioner
(Clearwisdom.net) The annual multi-cultural festival at the twin cities of Kitchener-Waterloo was held from June 21 to 22, 2008 in Victoria Park. The local Falun Gong practitioners participated in this event and introduced Falun Dafa, a cultivation practice based on the principles of Truthfulness, Compassion, and Tolerance, to visitors.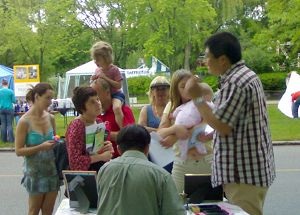 Raising awareness about the persecution of Falun Gong in China to a group of visitors
Some visitors learn the exercises during the festival
A young girl enjoys sitting on a lotus flower cushion
At the annual event, ethnic groups tried their best to display their cultures. Colorful tents extended about two miles long and the event attracted many local residents and visitors from other areas. Falun Gong has been participating in this event for years. They have information materials in both Chinese and English languages, beautiful lotus flowers, display boards and also provided free exercise instruction and instruction on folding paper lotus flowers during the event. The Falun Gong tent attracted many visitors. Many of them were attracted by the music "Pu Du" and came by to ask for where they can buy this music CD and where the exercise instruction site is.
A boy stood in front of the booth for a long time. A practitioner asked him if he had any questions. He said he wanted to know how to pronounce the words on the tag of lotus flower. The practitioner told him it was "Fa Lun Da Fa Hao" and that it means Falun Dafa is good. He repeated it a few times and left. The next day, he came to the booth again. When the practitioner greeted to him. He said he still remembered the words "Fa Lun Da Fa Hao!"
The Falun Gong practitioners were demonstrating exercises at the tent and their calm and peaceful movements attracted many visitors. Many visitors sat on the lotus flower exercise cushions and took photos of themselves and of the exercise demonstration. One little girl sat on the lotus flower for a long time. She said she had never seen anything like it anywhere.
A few Chinese came to the tent too. One mid-aged man said he has been following the Falun Gong issue for a long time and said he was urging his friends in China to quit the CCP and its affiliated organizations. He looked at the display boards and expressed his respect for Falun Gong practitioners. A Buddhist man came and announced his withdrawal from the Young Pioneers of Communism.