Falun Dafa Day Celebration in Toronto (Photos)
May 17, 2008 | By Ye Linghui
(Clearwisdom.net) Several hundred people gathered at Nathan Phillips Square on Friday, May 13, 2008, in Toronto to celebrate World Falun Dafa Day, this year marking the 13th anniversary of the public introduction of the spiritual discipline of Falun Dafa. Traditional Chinese dragon dances, powerful vocals, and insightful words from city officials were just a few of the elements of this three-hour event. The festivities at Nathan Phillips Square were part of worldwide events celebrating World Falun Dafa Day.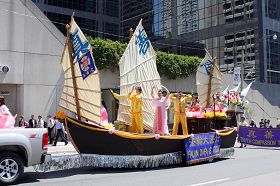 Falun Gong practitioners in Toronto celebrate World Falun Dafa Day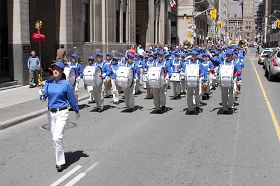 Divine Land Marching Band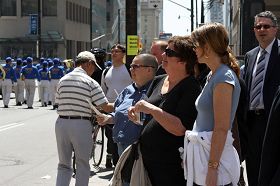 Curious onlookers enjoyed the practitioners' parade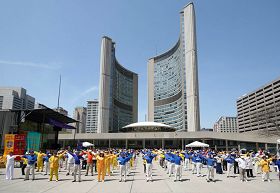 Falun Gong exercise demonstration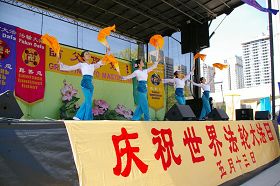 Fan dance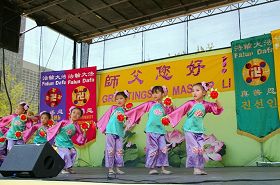 Young practitioners wearing traditional costumes performed a dance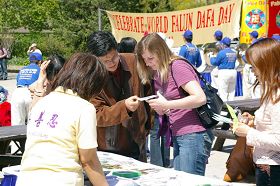 People interested in Falun Gong read flyers
Zhang Zhaojin, a representative for the Canadian Falun Dafa Association, commented, "Sixteen years ago, Mr. Li Hongzhi introduced Falun Dafa to the public for the first time in China. He charted the course toward finding one's true self with the guiding principles contained in 'Truth, Compassion and Tolerance.' Now, people from different ethnic and social backgrounds in more than 80 countries worldwide are embracing Falun Dafa and cherish the practice."
Messages from VIPs

Progressive Conservative MP Randy Hillier spoke at the event. He remarked that Falun Gong has grown steadily over the past 16 years and said that, despite being persecuted, practitioners' belief and the principles of "Truth, Compassion and Tolerance" still stand.

"Falun Dafa is a philosophy for living and the merging of mind and body. It promotes peace as a virtue and considers violence a vice," Toronto City Councilor Michael Walker commented in his short speech at the event. Walker denounced the Chinese government's "interference in the lives of Falun Dafa practitioners in Canada," adding that he will continue to present motions at Toronto City Hall to support Falun Dafa. City Councilor Cliff Jenkins was also present, adding his voice to Walker's.
Peter Kent, a Thornhill Conservative candidate and currently deputy editor for Global TV News, read a letter from Canadian Prime Minister Stephen Harper, which stated, "As you celebrate the 16th anniversary of the introduction of Falun Dafa to the public, with the community at large, I commend the Falun Dafa Association of Canada for sharing your traditions, based on the noble principles of Truthfulness, Compassion and Forbearance."

Heather Jewell, conservative candidate for St. Paul's, stated that Truth, Compassion and Forbearance are very good values. She said that it is a wonderful thing to spread these values throughout the world and remarked that Falun Dafa's followers are good role models. She said she believes that living with Truth, Compassion and Forbearance will make this world a better place.
Muhammad Ali Bukhari, Secretary-General of the International Mother Language Day Monument Committee, had this to say: "The Communist Party's smear campaign against Falun Dafa and the persecution of Falun Dafa adherents in China is illegal. I support practitioners in China. The Party must end the persecution!"
More people join the practice
Pao Yusong works as an IT developer. He immigrated to Canada from Mainland China in 2006 and began the practice in August 2007. He said, "I have always had good feelings toward Falun Dafa practitioners. They are kind and honest people.
"I saw many people's family relations improve after they began the practice. My wife, as an example, grew a great deal closer to my mother after she became a practitioner, so I wanted to try it, too."
Dharia is a Russian immigrant who began practicing Falun Dafa six months ago. She had practiced yoga intensively for ten years. Today, she asked a practitioner to correct her gestures during the exercises. "I experienced tremendous benefits from practicing Falun Dafa. I feel I am indeed improving myself. I change on a daily basis, and every day feels brand-new... I feel physically and mentally uplifted and very calm during meditation. My body is filled with energy--a miraculous feeling."
Zhao Dan began practicing Falun Dafa in April 2003. She now works as a software engineer at a Toronto Internet security company and told the reporter, "Cultivation allows me to do things with a calm mind, and that has helped me do a better job. Before, I used to get so nervous the night before exams that I could not fall asleep." Zhao Dan's mother learned of her daughter's positive changes and has also begun practicing Falun Dafa.
Kathy from Aurora, Ontario, said, "My acupuncturist introduced me to the practice. I know Falun Dafa is good. This is my first time participating in an activity, and I hope to learn all five exercises as soon as possible."
Practitioners expressed their gratitude toward Falun Dafa and Master Li with poetry, song and dance, and music from the Divine Land Marching Band.