Choreographer: A Perfect Artistic Performance (Photo)
April 08, 2008 | By Hua Qing, Minghui reporter in Sydney, Australia
(Clearwisdom.net)
Reverend Rossco and his wife Margaret from Penrith, a western suburb of Sydney, were moved by the Chinese Spectacular. They called the performance "exquisite" and "excellent."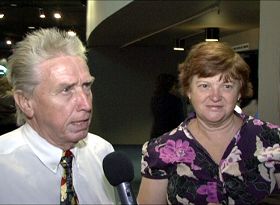 Reverend Rossco and wife Margaret
Dancers of the Divine Performing Arts Are Excellent
Reverend Rossco said that Penrith has a lot of cultural exchange with China. When he hosted the Penrith Festival this year, he saw the float promoting the show. He said, "I am now a minister of the church, but in the previous part of my life, I was and am still a choreographer, dancer and producer, so it meant everything to me. So I was very biased, happily very biased. The dancers were wonderful, especially the premier boys, the two main boys and all of the girls, wonderful, excellent."
His wife added, "He is very picky with his dancers, if they don't do it right, he would not give such good feedback and be so deeply impressed."
Mr. Rossco continued, "I was impressed by the beautiful details, precision. Everything is artistically correct, so it was very inspiring. I had a wonderful time."
Huge Inspiration to Belief
Mr. Rossco said that he was amazed by the 5000-year Chinese culture and that the show also inspired him greatly in his belief. He said, "I am glad to see this show today. The Chinese Spectacular gave me a lot of inspiration."
Margaret added, "Absolutely wonderful. I do not have enough words to praise it; I can only say it is too wonderful."
Moved and Uplifted by the Erhu Performance
Margaret continued, "Absolutely wonderful and beautiful costumes, such gorgeous colors. Everything was wonderful." She said her favorite was the lady who played the Erhu, and that it was very pleasant. She added: "I have never heard anything like that. It lifts and moves your spirit."
Can't Wait to See Next Year's Chinese Spectacular
Mr. Rossoc concluded, "This show is different in its concept of mixing beautiful traditional Chinese music and western instrumentation. I loved the gymnastics, I loved the colors, I loved the costumes, and the background, the Cyclorama rear projection has a brilliant effect. I can't wait till next year when it comes back again."