Swedish Dance Instructor: Divine Performing Arts Transcends Languages (Photo)
April 08, 2008 | By Minghui/Clearwisdom Reporter Shen Rong in Stockholm
(Clearwisdom.net) On April 3, 2008, the Divine Performing Arts successfully completed its last performance in Stockholm on its 2008 European tour. The audience responded with a standing ovation and thunderous applause, and all the performers bowed to thank the audience in return.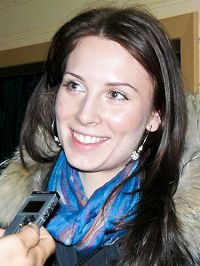 Dance instructor Carolin Segerpalm
Ms. Carolin Segerpalm is a professional dance instructor in Sweden. After seeing the show at the Circus Theater, she commented that the Chinese Spectacular was the culmination of classical singing, instruments, dancing, choreography, visual arts, background display, and gorgeous colors. She said everything was perfect.
Ms. Segerpalm teaches at a ballet school in Stockholm, "Nadjias Orientaliska Dansskola." She came with her mother on the recommendation of her boyfriend and mother.
After the show, Ms. Segerpalm said with joy, "My favorite was the dance, 'Water Sleeves'. It was great to see such a beautiful performance. I think this dance had extraordinarily tender and beautiful movements, and excellent coordination. The colors were also outstanding. The dancers' movements were perfect. The drummers were also very talented. The entire evening's performance was perfect and wonderful. In addition, the Chinese violin (erhu by Qi Xiaochun) was also very charming."
Excellent and Classical Dance Training
Ms. Segerpalm began learning ballet when she was only five years old. She especially appreciated the dancers' solid classical training. She said, "I am delighted to see such a large ensemble of dancers working well together. It is truly extraordinary. I am delighted to see the excellent classical skills possessed by dancers of Divine Performing Arts."
"The dances require many high-level, difficult techniques. I think they were truly highly difficult dance movements! You can tell that the dancers had received classical training. I think this is outstanding."
Ms. Segerpalm said that classical Chinese dance was different from the ballet. She said that the dancers of Divine Performing Arts were like one perfect, well harmonized body. "I think the classical dances of the Spectacular were great, and the dancers cooperated with each other very well. They truly formed one body in perfect harmony. In addition, the colors of the costumes and set were simply dazzling. Everything was absolutely magnificent."
Seeking Roots in History
Ms. Segerpalm said that Divine Performing Arts demonstrated traditional, classical Chinese culture. She said, "I like the traditional aspect of the Spectacular. It makes me feel as though I was returning to the past and seeking our roots in history. I think everything in the Spectacular symbolized Chinese culture."
"The Spectacular incorporated high-difficulty dance skills into traditional dances. This was a great approach. The performance looked clean, crisp, and touching. It also enriched the dances. Through the dances, Divine Performing Arts displayed classical, traditional Chinese culture to many countries. It is truly outstanding!"
Divine Performing Arts Transcends Languages
Ms. Segerpalm has hoped to use dance to express her emotions since she was a young child. She was excited to see this becoming reality in the Spectacular. She said, "I believe in using dance to express emotions, while at the same time transcending languages and communicating with the audience. Dance can accomplish this. Since I was a child, I have hoped to understand emotions. That's why I thought Divine Performing Arts was truly great. I am delighted to see that in addition to simply dancing, the artists were able to express much deeper inner meanings through dance. Some of the solo dancers were able to express very strong emotions to the audience. I am very glad to have seen such a perfect performance."
Before she left, Ms. Segerpalm said thankfully, "I am truly happy for all the audience who attended the Spectacular. It provided the Swedish people with an opportunity to understand China. I anticipate [next year's performance] will bring more traditional Chinese culture. I will really enjoy it. I think I should recommend Divine Performing Arts to my friends."