The Epoch Times: Stage Master Says "Spectacular," Imparts an "Undamaged, Untainted and Wholesome Feeling" (Photo)
April 08, 2008 | By Mimmi Svensson, Epoch Times Sweden Staff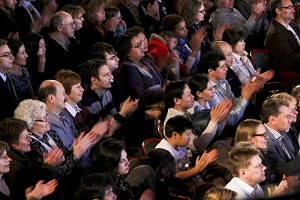 The Divine Performing Arts Chinese Spectacular attracted local people and Chinese from the Mainland (Jan Jekielek/The Epoch Times)
(Clearwisdom.net) STOCKHOLM, Sweden--The Divine Performing Arts Chinese Spectacular graced the stage at Stockholm's Circus Theater on April 3, after having performed two shows in Finland in the preceding days.
The Swedish audience, among them Stephanie Burberry and Pia Bogle, appreciated the potpourri of scenes from China's ancient history and gave a standing ovation. The performers took three curtain calls.
Burberry is originally from England, but lives in Stockholm and is an avid theater fan. She is a stage master at Stockholm's Royal Dramatic Theater, locally called the "Dramaten," where Swedes can see plays or "spoken drama."
Burberry said the Spectacular was, "...fun, delightful and nice. It was a peaceful performance and absolutely not what I generally watch. I am used to other types of performances."
"It was very pleasant. I enjoyed being introduced to each scene and getting some background on what was coming."
She added that it seemed the show imparted a feeling of purity.
"I thought there was an astonishing, how can I put it, undamaged, untainted and wholesome feeling in this show in some way. I could say that there was a genuine innocence that I enjoyed a lot. That's something you usually don't see."
To Burberry, the Spectacular performers appeared to be "...more like people who haven't been ruined in any way--that's the feeling you get... It gives some kind of honesty to the performance that one can understand and accept. That, I felt, was the nicest part of the show."
Although she enjoyed "Drummers of the Tang Court" and "Victory Drums," her favorite piece was "Nymphs of the Sea."
"Their movements looked just like billowing water and waves, and the surface of water. The way they were able to mirror that was beautiful."
Bogle, who is part Japanese, used to work at the Circus Theater but now arranges church events for weddings and funerals. She, too, was impressed with the drumming acts.
"I liked the drum parts. Both of them were very good, beautiful. The scenes with the male dancers were impressive--I would like to see them again."
''I felt sorry that I didn't understand more of the history behind the classical stories. It would have been more enriching," added Bogle.
In the piece "The Power of Awareness," Burberry said that she, "...liked the little child. She was adorable."
Remarking on the Spectacular's unique backdrop, Burberry said that it "...worked very well, especially when one dances on stage one doesn't use ordinary scenery the way you do in the theater. I definitely though it worked very well. It was remarkable that they worked so much more with video than with light, which made it very pure. They used their costumes as scenery and for the background a video as the actual scenery, which was incredible."
They both enjoyed "The Loyalty of Yue Fei," in which a renowned warrior famous in Chinese history had to decide whether to join his compatriots in defending China or stay and take care of his mother. This is where ancient Chinese first learned the virtue of filial piety. However, the mother tells Yue Fei that he should be loyal to the country.
The friends saw poster advertisements for the show during a trip to France where it played a few weeks ago at the Palais de Congrès. The Divine Performing Arts has two performance groups simultaneously touring in Europe and Australia.
Burberry said that when Bogle suggested seeing the Spectacular, "I had no idea about what it really was--that's almost the best when you go and see something--when you don't have any expectations."
Burberry and Bogle both agreed that the show was uplifting.
"It would be difficult to leave here and be in a bad mood," said Bogle.
Source http://en.epochtimes.com/news/8-4-6/68689.html