Chinese People in Sydney Express Appreciation for Authentic Chinese Culture (Photo)
(Clearwisdom.net) On April 5, 2008, the Divine Performing Arts New York Company gave its last presentation of the Chinese Spectacular at the Sydney Entertainment Centre. Compared to previous performances at the center, the final show attracted more Chinese people.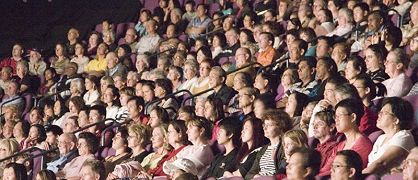 Audience takes in the Chinese Spectacular at the Sydney Entertainment Center
David, a vocalist who came from Mainland China to Australia 20 years ago, gave high marks to the artistic achievement of the Divine Performing Arts. "These performers are professionally trained, and more importantly, they all have a rare inner spirit."
Mr. Zhou is an engineer in the Chinese Liberation Army, and is visiting a relative in Australia. He said, "This is real Chinese culture. It gives an excellent presentation of classical Chinese dance and traditional music, and it is very different from other performances. It gives the audience a very pleasant feeling."
Cici is very interested in the arts and she was deeply touched by the show. "It is so different from so-called modern dances, and it is very spiritually uplifting. It gives a fine presentation of the elegance of women and strength of men, revealing the inner world. While watching them, I wanted to join them and dance together."
Cici was very impressed by the inner meaning of the show, "It shows us that people should strive to be good people and thus it is very educational and inspiring. The music is very Chinese, reminding me of my childhood and my hometown. It is very pleasing and dear to my heart..."
Referring to a piece depicting numerous people having the courage to defend Falun Gong practitioners in China, Cici said that the performance portrayed justice. She said that more pieces of this kind should be performed widely.
Ms. Li completely agreed with Cici. She said, "Truthfulness-Compassion-Forbearance is what this society and the whole world needs. If everyone followed these principles, the world would be at peace and there wouldn't be so many wars and calamities. I think the show is very inspiring and successful."
Though he has lived in Australia for ten years, Deny often goes back to China. "I have personally witnessed policemen arresting Falun Gong practitioners at Tiananmen Square, and I know how the Chinese Communist authorities torture the practitioners. I think the pieces about Falun Gong are truthful. Falun Gong promotes 'Truthfulness-Compassion-Forbearance.' It forms a sharp contrast with the communist party."