Swedish MPs Attend and Praise Spectacular Shows, Condemn CCP Interference (Photo)
April 03, 2008 | By Minghui/Clearwisdom reporter Tang Ling in Linkoping
(Clearwisdom.net) The Divine Performing Arts Chinese Spectacular has obtained consistently high praise from all segments of society in Linkoping, Sweden. In order to show their respect for freedom of speech and the values of democracy, several Swedish officials and politicians have appeared at the Spectacular and announced their support for the performances presented by the Divine Performing Arts. At the same time, they condemned the Chinese Embassy's interference with the Spectacular shows and their behaviour of challenging Sweden's democracy and human rights.
MP Deeply feels that Chinese traditional culture is broad and profound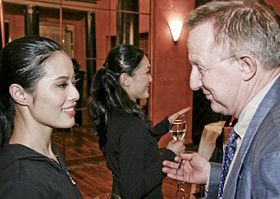 MP, Staffan Danielsson is talking to a performer with the Divine Performing Arts
The MP of Ostergotland, Staffan Danielsson said that he felt that the Chinese traditional culture is very broad and profound, but it is restrained and suppressed by the Chinese Communist Party (CCP). He delivered a statement disagreeing with the Chinese Embassy's attempt to stop the Spectacular in Linkoping.
MP Danielsson and six other MPs published a joint open letter in the largest local newspaper, Ostergotland Correspondenten, inviting the Chinese Ambassador to Sweden to watch the Spectacular. However, the Ambassador did not appear.
The show has collected the essence of the Chinese traditional culture
MP Danielsson was deeply impressed with the performance of the Spectacular. He said it has collected the essence of traditional Chinese culture. It was very interesting and loving, the unusual techniques in the dances were excellent, the three dimensional backdrop was also great, as it enabled audiences to see from all angles.
The Mayor of Linkoping: it is so great to see the Spectacular!
The Mayor of Linkoping, Ann-Cathrine Hjerdt indicated that she has never been to China, but the performance of the Spectacular has allowed her to experience the glorious Chinese traditional history and culture. Meanwhile she appreciated the Spectacular: "It is very impressive, and the clothing is extremely beautiful. It is so great to see this Gala Spectacular."