Melbourne, Australia: Former Chairman for Asian Studies: "It's An Absolutely Spectacular and Diversified Performance" (Photos)
April 03, 2008 | By Minghui reporter Zhou Rong in Melbourne, Australia
(Clearwisdom.net) Mr. John Cohen was former Chairman for Asian Studies for Victoria, and received the Order of Australia Medal. He attended the second Chinese Spectacular show performed by Divine Performing Arts in Melbourne on the afternoon of March 29, 2008. He was delighted and said the show was professional, outstanding and spectacular.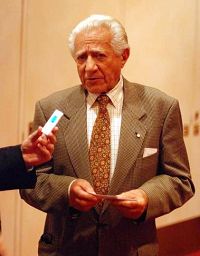 John Cohen, Former Chairman for Asian Studies for Victoria
Mr. Cohen is currently lecturing on a course called "The Making of Modern China" for the University of Third Age, and is also a member of the executive committee for the Victoria Town Hall.
He noticed the harmonious interaction between performers on the stage and the audience during the entire Spectacular. He said, "The applause was at the right times and it made me feel that the audience was at one with the performers. And there was a sharing between what was happening on the stage and those who were sitting in the audience. It was a great performance and a great experience for all those who have the opportunity of partaking in it."
He continued, "And look, something else, the wonderful costumes and the variety of costumes stick in my mind and the young men on the drums--that was spectacular!" He said, "I had the feeling here that the performers really had their heart in what they were doing. It wasn't just a professional performance, but something that came from the heart of those who performed today. I'm sure the sentiments that I express today to you must be shared by many other people who saw the performance today."
He also mentioned that the Chinese culture expressed in the Spectacular is also shared by the wider humanity. He said, "It is something that is shared by humanity at large and is shared by other cultures as well. That's made what we saw today universal."
In addition, Mr. Cohen also mentioned the serious part of the show, saying, "but perhaps it alerted the audience today that there is repression and there is a sacrifice by many Chinese who want to express something--the compassionate side, the forbearance side. Something that is deeper in the ancient Chinese culture than what we see perhaps today."
He suggested that all Australians come out to see the show. He said, "I would suggest to all Australians who have the opportunity of seeing this performance to use the opportunity and come and see it. Great experience!"