Young Ballet Dancer from Russia: I Wish I Could Tour with the Divine Performing Arts (Photos)
April 03, 2008 | By Minghui/Clearwisdom reporter He Ping
(Clearwisdom.net) On the evening of March 30, 2008, the Divine Performing Arts (DPA) presented it first show of the Chinese Spectacular in the city of Tampere, Finland. The show received a warm welcome and the performers answered curtain calls three times.
The city of Tampere is the third largest city in Finland. It is often called "The Land of a Thousand Lakes." The city is located in southwestern Finland between the two lakes of Nasijarv and Pyhajarvi. The Chinese Spectacular was held in historic Tampere Hall.
Hopes to Tour with the DPA
Alina, 18 years old, is from St. Petersburg. She's been learning Ballet in Moscow for nine years. On March 30, Alina, her mother, and her grandparents drove eight hours from St. Petersburg to Finland to see the show.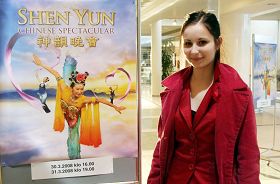 Alina from St. Petersburg
When asked about her favorite performance of the evening, Alina said, "I liked all of them. The artists are absolutely professional. Every number seemed to connect with the others. Not just in the meaning they conveyed, but technically they were connected seamlessly. The show gave me a very peaceful feeling; the feeling was so strong that no word could describe it. I remember every single performance. I cried during the dance 'The Risen Lotus Flower' where a Falun Gong practitioner was tortured in prison. The first piece, 'Decent of the Celestial Kings' was so powerful that I cried then, too. I really wish I could tour with the DPA around the world."
Everyone Needs Truth, Compassion, and Tolerance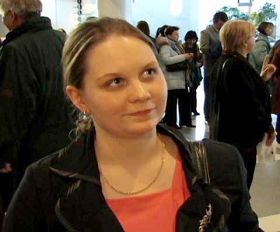 Ranch owner Sanni Asplund
Sanni Asplund, a ranch owner, said the show was very artistic and educational. She thought the costumes were beautiful and was amazed by the historical content of the show. "We all need 'Truth, Compassion, Tolerance.' Today people have become so shallow, sometimes the only thing we can think of is going shopping." She said she'd give serious thought to "Truth, Compassion, Tolerance" after the show.
"The Loyalty of Yue Fei" Is Culturally Symbolic
Mr. Lan and Ms. Tang, from Taiwan are currently students in the Public Health Department at the University of Tampere. Mr. Lan said, "I really liked how the DPA presented their sound and the visual effects. The show made me feel really comfortable. It's a beautiful show."
Ms. Tang was very impressed with the story,"The Loyalty of Yue Fei." She considered the story symbolic in Chinese culture. She gained new insight seeing the DPA present this story.