(Clearwisdom.net) Falun Gong (Falun Dafa) began to spread throughout the world in May 1992. It revealed the characteristic of the universe, "Zhen-Shan-Ren," and people who began to practice quickly obtained better health while at the same time they strived to become better people. Falun Gong was spreading fast, by word of mouth, from one person to another. On April 25, 1999, after Tianjin police beat and arrested 45 Falun Gong practitioners, more than 10,000 practitioners went to the State Appeals Office near Zhongnanhai (they went to Fuyou Street) in Beijing to peacefully appeal to government officials. The appeal was handled by the premier of the State Council, who met with Falun Gong practitioners, and they reached a common understanding and reasonable resolution. The entire event went peacefully and it was over in the evening.
(Clearwisdom.net) Editor's Note: To commemorate the ninth anniversary of the April 25 Appeal, Clearwisdom presents this as one of a series of republished articles from years past. The April 25th Appeal was notable not only for its size, but also because it was remarkably peaceful and orderly. Some 10,000 practitioners gathered in central Beijing that day, peacefully protesting for their civil rights. The CCP propaganda machine, however, in its quest to crush Falun Gong at the bidding of then Party Chairman Jiang Zemin, twisted the facts to serve its own motives. To this day, CCP propaganda accuses Falun Gong of "laying seige to the Zhongnanhai Central Government Compound" on April 25, 1999, falsely alleging that the 10,000 gathered posed a violent threat to the nation and its leaders. Nothing could be further from the truth, of course, as this series of articles documents from various angles.
(Clearwisdom.net) At noon on April 25, 2008, Falun Gong practitioners gathered in front of the Chinese Embassy in Washington to commemorate the ninth anniversary of April 25 appeal, and the deaths of thousands of fellow practitioners who were tortured to death by Chinese Communist Party (CCP). They called on justice and conscience to stop CCP's persecution of Falun Gong.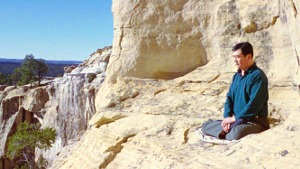 Master Li quietly watching the world from amidst the mountains after leaving New York following July 20th, 1999. (Published January 19, 2000)