Munich, Germany: The Show Brought China to the West in a Positive Manner (Photos)
(Clearwisdom.net) Maria Pfoehler, a medical engineering marketing assistant, attended the Chinese Spectacular in Munich and was deeply impressed.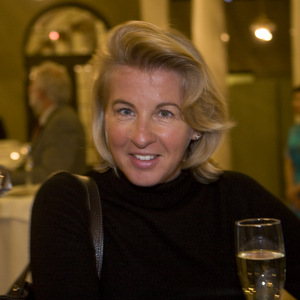 Ms. Pfoehler
"The show was very harmonious and perfectly executed," Pfoehler said excitedly. The show provided the opportunity to truly understand the cultural magnitude and the different traditions that exist in China.
Ms. Pfoehler was excited about the rich colors of the costumes, the expressive movements of the dancers, and the potpourri of scenes. Ms. Pfoehler also praised the MCs, who described the scenes to the audience with humor and charm, so that everyone could understand the different programs.
Ms. Pfoehler especially favored the "Nymphs of the Sea" and the "Mongolian Bowl Dance," as they "expressed the discipline inherent in this [China's] culture, the body control and the overall discipline. They were absolutely terrific." Talking about the drums, she was amazed by the drummers' mastery over their instruments.
She expressed the same amazement about the erhu performance, "I found that totally awesome. I was truly captivated -- and engrossed in a completely different way I have ever experienced. There were many outstanding highlights."
Without doubt, Ms. Pfoehler will recommend the show and come to see it again next year.
Her overall impression was that this show "brought the land of China in a more positive manner to the West." Up until now, she saw China as a military type environment, which was highly disciplined. This show brought another side of China to her attention -- the artistic side, somehow playful with a completely different trait. "This was such a strong contrast to what I ever imagined," said Pfoehler.
In short, she expressed that the show was fascinating and graceful, and brought a strong cultural setting to the public.
Insight into a Kaleidescope of Colors and Joy
Thomas Wenisch, a political scientist, pointed excitedly to the variety of programs presented by the show. He loves ballet and dance, which is the main reason he was so taken by the dances. The drums, acrobatics, costumes and graceful dances represented the show's diversity.
A friend had invited Mr. Wenisch to the show and he was very glad he came. In summary, he would recommend the show to others with the words, "Insight into a kaleidescope of colors and joy."
Psychotherapist, "I Felt as if Welcomed Back into the Fold"
The day before the show, Ms. Gunter, a Munich psychotherapist, found a newspaper in her mailbox that advertised the Chinese Spectacular. She immediately felt drawn to it and wanted to see the show.
Ms. Gunter
The show opened something in her heart. She said she felt "as if welcomed back into the fold by the principles Truthfulness, Compassion and Tolerance."