New York: The Divine Performing Arts Honored with Warm Welcome Upon their Return to the US (Photo)
April 24, 2008 | By Minghui/Clearwisdom reporter Cai Ju in New York
(Clearwisdom.net) On April 20, 2008 at 5:00 p.m., the Divine Performing Arts touring company was welcomed back at New York's Kennedy Airport with much honor. Local residents presented floral bouquets to the group as well as colorful balloons and banners with messages of warm welcome. As the group appeared in front of the exuberant crowd, they were greeted with applause and cheers.
In their two-month tour of Europe, the Divine Performing Arts touring company presented 45 shows in 18 cities, enchanting audiences everywhere, and touching the hearts of countless people. Interference from the Chinese Communist Party, instead of being a deterrent, contributed to the Divine Performing Arts' shows as effective advertisement, and drew more people to enjoy the remarkable experience of Divine Performing Arts.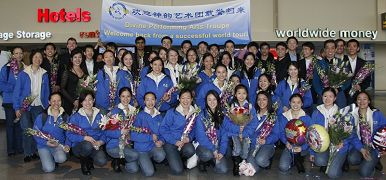 Concluding its European tour, the Divine Performing Arts touring company received a warm welcome upon their return to the US
The final shows of the tour in Prinzregenten Theatre in Munich, were met with overwhelming applause from an audience of both Chinese and Western heritage. The event pushed the Divine Performing Arts to a rousing climax, and brought the European tour to a wonderful conclusion.
Tour leader and renowned dancer Guo Xiu said that the European audiences were extremely enthusiastic, and even the most discerning audiences in Germany gave the show nearly continuous applause. Each part of the production was enthusiastically received, including the stage designs, performance techniques, and the show's content. Ms. Guo said, "The programs concerning Falun Gong were received with enthusiastic applause, and some audience members shed tears as they watched these pieces. At times we had to bow twice or three times at the curtain call. In attending cocktail parties, our youngest performer who is only 7 or 8 years of age, would tell government officials that the dance she performs is against the persecution, which is currently taking place in China."
Ms. Guo also said that in the cities where interference from the Chinese Communist regime was most prevalent, the shows were even more outstandingly successful. She said that the performers maintained high spirits, and performed with full attentiveness, thus the effect of their performance was always exceptional. The piece, "Drummers of the Tang Court" was especially praised. "Commentaries on 'The Drummers of the Tang Court' were not only for its dance technique, but people felt its heroic spirit. We have brought true Chinese traditional culture to New York, and the truth of Falun Gong to the European audience."
From this weekend on, the Divine Performing Arts touring company will visit four major cities in the central US. Performance times and locations are:
April 26th ~ 27th in Kansas City, MO
April 30th ~ May 1st in St. Louis, MO
May 3rd in Cleveland, OH
May 6th in Huntsville, AL
Meanwhile the sister company, Divine Performing Arts of New York, has traveled from New Zealand to Hawaii, and will also perform in the following cities in North America:
April 21st in Honolulu, HI
April 23rd ~ 24 in Seattle, WA
April 25th ~ 28th in Vancouver, Canada
April 20th ~ May 2nd in Calgary, Canada
May 5th ~ 7th in Edmonton, Canada
For more details on Divine Performing Arts' shows, please visit http://shenyun.us/gb/