South Australia Welcomes the Chinese Spectacular (Photos)
April 18, 2008 | By Minghui reporter Wang Ansong
(Clearwisdom.net) Divine Performing Arts held two shows of the Chinese Spectacular in Adelaide, South Australia, on April 14. About 100 guests, including politicians, business leaders, and local Chinese community leaders, attended the reception before the debut.
John Hill, Minister Assisting the Premier in the Arts, welcomed the performing arts company at the reception.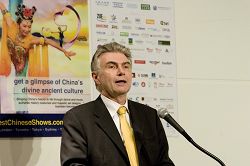 Minister John Hill
David Ridgway, Leader of the Opposition in the Legislative Council and Assisting the Shadow Minister for Multicultural Affairs, said that he was especially proud of two members of the company that are from Adelaide. He welcomed the shows and pointed out their contributions South Australia's multiculturalism.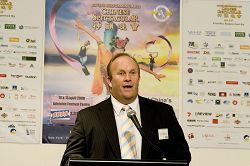 The Hon. David Ridgway
Tony Davison, one of the sponsors and a representative from TV Station Channel 7, said that this is a precious chance to enjoy traditional Chinese culture that has been suppressed in China over the last 50 years.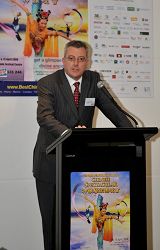 Mr. Tony Davison
Mrs. Li Vena, assistant head of the Divine Performing Arts Company, explained the background and goals of the company. She said, "This beautiful and compassionate show not only belongs to Chinese people, but also belongs to all the people of the world."
Lindsay Simmons, a Member of Parliament in South Australia, enjoyed the show. "I've never seen such a good show," she said. "My favorite was the fan dance. The actors perfectly expressed their emotions through dance and music."
Ms. Simmons was touched by the dances about Falun Gong. She also liked the show's humorous hosts. She said that they helped the audience understand the content of each program.
Although Ms. Simmons has seen Chinese shows in Hong Kong, she said that this one was special. "You cannot see a show this good in China. I want to come again next year."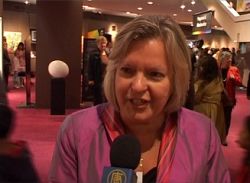 Lindsay Simmons, a Member of Parliament in South Australia