Art Professor: It Isn't Enough To See It Just Once (Photos)
March 08, 2008 | By Minghui Correspondent He Yu
(Clearwisdom.com) "The Divine Performing Arts (DPA) show is splendid, colorful, and dazzling. The essence of Eastern and Western cultures were combined and displayed perfectly. The audience eagerly anticipated each upcoming program. It isn't enough to see it just once," said Dr. Lu Hung-hui, Professor at the Institute of Arts Management, National Sun Yat-sen University, after seeing the second DPA show in Kaohsiung on March 5, 2008.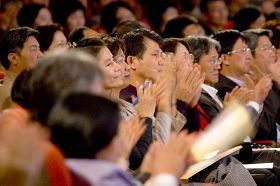 The audience sat in admiration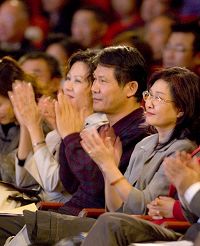 The audience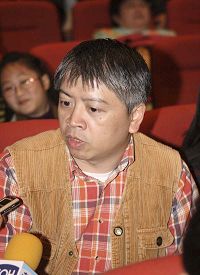 Professor Lu Hung-hui
Professor Lu was most moved by the opening program "Descent of Celestial Kings" and said, "We sat there and saw something that exceeded our expectations. The only word that came to my mind was 'splendid.' The moving opening led the audience to look forward to the later programs, and, as expected, the rest of the program rewarded the audience with one surprise after another.
"The variety of formats, dances, music, and songs covered different dynasties, ethnic groups, and styles. The diverse program was thoughtfully arranged. The introductions and connections between performances were great, too.
It isn't enough to see a show like this just once. Every time you see it, you will go beyond the presentation and experience more of its profound nature."
Professor Lu also appreciated the great purpose of the show and believed it would experience great success.