Vienna Audience Member: "I Must Pay My Respects to These Artists" (Photo)
March 10, 2008 | By Zheng Qing in Vienna
(Clearwisdom.net) The second presentation of the Chinese Spectacular by Divine Performing Arts in Vienna came to a successful close amidst the audience' overwhelming applause on March 8, 2008. Andrea Ribitsch and her friend Markus Hofer who attended the show together said they felt the energy of compassion emitted from the performance.
Andrea Ribitsch works for a well-known Japanese automobile company, and Markus Hofer works in the interior design industry. Andrea said, "The entire performance was outstanding, very beautiful." She kept saying, "Absolutely marvelous, really marvelous."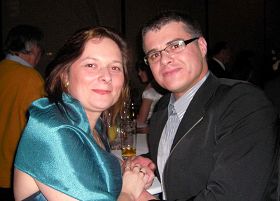 Markus Hofer and Andrea Ribitsch warmly share their impressions of the Chinese Spectacular during the intermission
Andrea thought the drumming performance was a one of the highlights. She said, "Fantastic! I could feel an energy of compassion from it."
She added, "The costumes and dances have so much inner meaning. They are so graceful and dignified. I'm more and more interested in Chinese culture now."
Markus Hofer said, "The entire performance was first-class, absolutely unique. I liked all the numbers in the performance. Those performers were so harmonious, and had a teamwork spirit. They were simply like one body, without making any mistakes."
Markus said he had read books about Buddhism and Chinese medicine. "I'm mesmerized by the Chinese culture. Chinese culture makes me feel amazed and inspired."
He said, "It is really a wonderful feeling to see a tradition Chinese performance in Europe. I must pay my respects to these artists. These artists gave me an impression of, how to say, their compassion and peacefulness from inside, their expression of profound thoughts and feelings... We do not have all this in the West."