New York: "Every Program Told a Story, and Touched People's Hearts in Different Ways" (Photos)
February 05, 2008 | By Minghui reporter Zhou Rong
(Clearwisdom.net)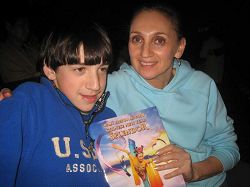 Ellen and her son, Gavan, enjoyed the show
Ellen from Connecticut came to the Chinese New Year Splendor in New York with her son Gavan. Ellen's school offers Chinese courses to sixth graders, so she watches a lot of Chinese shows and recommends the good ones to the school.
Ellen praised the show as being vibrant and enjoyed every program. Her favorites were the "Water Sleeves" and drum dances. She enjoyed the background design and costumes, as well. Gavan's favorite was the program "The Risen Lotus Flower".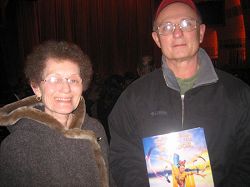 Mr. Rauch and his wife, Joyce
Elementary school principal Mr. Rauch and his wife, Joyce, came to the show with their friends. He said that he sensed the spirit of Chinese culture in the show and that his favorite was the soprano solo by Yang Jiangsheng. He said, "Every program told a story and touched people's hearts in different ways."