Educator: "Chinese New Year Splendor Makes People Think" (Photo)
(Clearwisdom.net) During the past 11 days, the Divine Performing Arts performed 15 shows at Radio City Music Hall, causing a flood of people to come watch the Splendor, celebrate the Chinese New Year, and experience traditional Chinese culture. It is estimated that over 40 thousand people saw the show.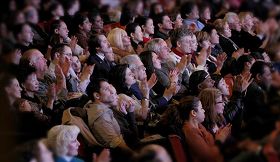 Applauding Audience on February 9, 2008
Many watched the show multiple times. One such person was Ronald, who is an educator. He felt compelled to buy tickets again after he saw the show on February 2, and he came back with four of his friends on February 9, 2008.
He said, "Watching the show for the second time, I am still deeply impressed. Maybe it is because the art is so perfect, the content is so profound, and the realms are so deep. Every piece was very moving."
He added, "In one show, I saw authentic Chinese traditional culture, such as the 'Loyalty of Yue Fei' and 'Lady of the Moon.' Meanwhile, there were pieces with cultural components of spiritual cultivation, such as 'The Fruits of Goodness' and 'The Risen Lotus Flower,' as well as in the content of the songs. I also saw pure inner beauty expressed through Chinese classical dance and traditional instruments.....It's only one show, and I felt so many things, both vast and detailed, rich and deep. It will not only move you, but also make you play it over in your mind again and again.
Christian is a manager in Manhattan. He has been dancing ballet since he was young and loves dance. He said, "I loved all the dances; they were flawless! So beautiful, so awesome! Chinese dance is very different from ballet. Chinese dance is so soft, elegant. Their arms, legs, and bodies all have a unique style. I especially like the way they walked. It was like they were floating!"
Doctor John and his wife Samantha felt the Splendor was a connection between ancient Chinese culture and modern culture and displayed the best sort of spirits. They were sad to see that Falun Gong practitioners, who cultivate Truthfulness-Compassion-Forbearance, were being suppressed in China, but while watching "The Power of Awareness," they were filled with hope. John said, "I had little understanding of Chinese culture before, but I saw the profoundness and wonderfulness of Chinese culture. It was very moving."
Talking about the dances, Ronald continued, "These dances gather, scatter, collect, release, go up and down, fast, slow, shuttle back and forth, and change a lot. Each small part has a detailed parts, but all the small parts formed a harmonious full production. It was very eye-catching."
John said, "One can hardly imagine double the amount of nymphs behind those fans in 'Nymphs of the Sea!' When the dance concluded, you couldn't figure out how they all hid behind those fans. It was so interesting!"
Ronald and Christian both said the Erhu song, "Redemptive Suffering" was soul-piercing. Christian said, "I don't know how she (the Erhu musician, Qi Xiaochun) can play this two-stringed instrument with such a moving melody!"