Epoch Times: Mrs. Wang: "It Really Brings Honor to Chinese People" (Photo)
February 15, 2008 | By Epoch Times reporter Wei Junyu in New York City
(Clearwisdom.net) When hearing a comment about something, should one just believe it, or hear opinions from two opposing sides and then make a judgment, or go to personally experience it and see what it really is?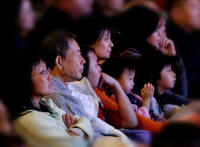 Many Chinese have seen the Chinese New Year Splendor performance in Radio City Music Hall (Photo by Ma Youzhi, Epoch Times)
On the morning of February 7, Chinese New Year, Mrs. Wang from the Chinese community in New York City gave herself a gift---a ticket to the Chinese New Year Splendor performance at Radio City Music Hall. What she went through in her mind before and after she saw the performance can inspire those who have similar thoughts.
Mrs. Wang has a graceful demeanor and speaks elegantly. She appears to be a well-cultured person and very knowledgeable. Her family has been in the US for three generations. Her children are all very accomplished and have good reputations in the community. She and her husband came together to watch the afternoon performance. They also brought eight or nine friends with them.
Because she did not want her name to be known, she just told the reporter her last name, which is Wang.
Mrs. Wang read many good comments about the show in the Epoch Times. She also heard from several people she knows that the show was not that good. The opposing comments had triggered her interest, "I definitely wanted to see it in person."
On the afternoon of February 7, during the intermission, Mrs. Wang said, "The programs are especially good! This is absolutely a high-standard performance. For those who said the performance was not good, it is because they do not understand it."
After personally watching the show, Mrs. Wang could hardly understand why someone would speak badly of the show, "With such good music and dances and such beautiful backdrops, it really makes Chinese people feel proud." She said that she really enjoyed the show. After she got home, she said that she would tell those she knows not to listen to others' (bad) comments and miss this good chance.
Mrs. Wang said that after watching TV series from Mainland China, such as The Great Ming Dynasty, she felt very nauseous. It was all about the court eunuchs' abusing powers and the treachery of the court, and so on. "The country needs the loyal officials like Yue Fei," she said. What she saw in the dance of "The Loyalty of Yue Fei" inspired her to comment favorably about the show again and again. At the same time, she said that she also felt pity and sorrow that Yue Fei could not save the country because he was called back (from the battlefield) by the emperor and killed.
"We all are Chinese. We all hope China can be better. It is good no matter who has done such a thing." Mrs. Wang repeatedly indicated that the performance has brought honor to Chinese people, "I completely agree with the words of praise for the Divine Performing Arts in the Epoch Times." She said that she did not need to praise anyone particularly, and that she really meant what she had said.
Mrs. Wang said that she could see how much effort, energy, and time had to be spent in the preparation of this performance and how many talents, including the host and hostess, who are good at both Chinese and English, are required. She also mentioned that each and every piece of music, dance, backdrop, color, and so on was flawless.
The humor of the host and hostess impressed Mrs. Wang deeply. She said that before they introduced the Erhu performance, "The other instruments tried hard to show themselves off," which made her laugh. The way "The Lady of the Moon" portrayed the suns being shot down was very impressive to her.
Walking out of the theater after the show, she said, "I am very happy, and very excited. It really brings honor to Chinese people!"