Retired Professor from China: "This Show Took Me Home" (Photo)
(Clearwisdom.net) Ms. Han, a professor from China, came to New York to visit her daughter's family. She brought her twin granddaughters to the Divine Performing Arts show on February 2, 2008, at Radio City Music Hall.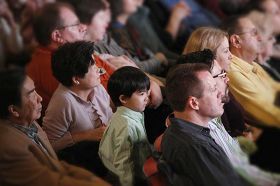 Audience at the Splendor on February 2, 2008
Ms. Han worked in education for more than 30 years while living in China, and she is retired now. This was the second time she had seen the Divine Performing Arts show. She said, "There is hardly any chance to see such an excellent show about Chinese culture in America. We only bought four tickets for our family of six. We treasure this show and finally decided to take our granddaughters so they could learn about Chinese culture."
When asked her impressions of the show, Ms. Han said, "I feel it is very good!" When the journalist asked her, "Would you please specify which parts you liked and why?" suddenly tears appeared in her eyes. She said, "I feel this show took me home. Every program is so nice, very close to my heart......."
Ms. Han's twin granddaughters are usually very active; it is difficult for them to be quiet and settle down. But today they were focused on watching the whole show. They said, "We are learning dance. We will work hard and will dance like these aunties on stage some day."
Ms. Han and her family left Radio City Music Hall with big smiles.
February 3, 2008