Divine Performing Arts Show Pleases Young and Old, from the East and West (Photos)
(Clearwisdom.net) Mr. Chen Faming, a nurse who lives in New Jersey, expressed his joy at having the opportunity to see the Chinese New Year Splendor. He was surprised to hear the Divine Performing Arts Company had the Spectacular last year, and felt fortunate that he was able to catch this year's show.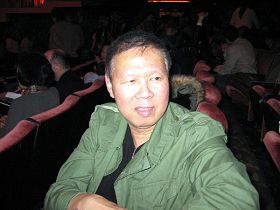 Mr. Chen Faming, a nurse in New Jersey
Ms. Chen and Ms. Wang, immigrants from Taiwan, have lived in Flushing for more than 30 years. Ms. Chen used to own a restaurant, but now owns a pet store. These two smiling ladies told the journalist that they saw the Holiday Wonders. Before that, they saw the DPA show in Taiwan last spring. They are loyal fans of the Divine Performing Arts. When asked which program was their favorite, they answered, "They all are good."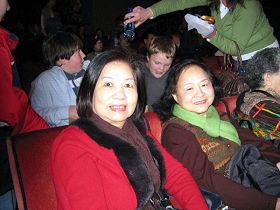 Ms. Chen and Ms. Wang from Flushing
One Western lady brought her children the show, saying, "It's so wonderful!" Her seven-year-old daughter's favorite program was the drummers.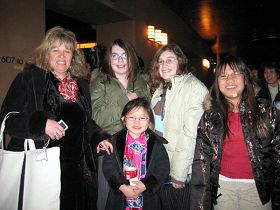 Western lady and her family
Zhang Mingyue is a seventh grader. She brought her sixth grade friend, Shao Mei. They live in Boston and are both DPA fans. Their families drove four hours to New York to see the show. They said unanimously that they loved the show, and that this is their second time to see a DPA performance.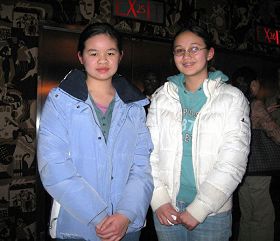 Zhang Mingyue and Shao Mei
Ms. Yan just came from Guangzhou City two months ago. Her relatives introduced her to this wonderful performance, and she has seen the DPA shows twice. She likes every program. She found the Radio City has high quality equipment, and the scenery is very good.
Ms. Deng Li, a business owner in Flushing, is an immigrant from Shanghai. She brought her two children to the show today. She said that she has watched the NTDTV Global Chinese New Year show every year since 2004. She was most impressed by the drum programs this year, "They are very intense and energetic".
February 3, 2008