"What's Most Amazing Is How Inspiring It Is" (Photos)
(Cleawisdom.net) "What's most amazing is how inspiring it is. It's very inspirational--the whole show concerns itself with spirit and soul. It shows the discipline of the ancient Chinese people. They are well-disciplined, well, divine, and then they commune with their creator."

This is how Archbishop Alfred Adelekan, an executive college member and nuncio to Africa of the World Bishops Council, described the Divine Performing Arts show that he attended at the Merriam Theater in Philadelphia on Sunday, December 21. Originally from Nigeria, Archbishop Adelekan is also the regional president of the World Federation of Churches in the eastern United States and the African sub-region. He has traveled widely and holds a number of important positions in different ecumenical organizations.

"Most of the things we look at here talk of your living on earth and then having somewhere to return to, but before you can return, you have to be righteous. And to be righteous you have to do good to your fellow man. So the whole performance teaches us that we must do good to our fellow man, and then you will respect every individual. And you must live for others, love others. That is what I really get from this show."

He said that many of the performances showed that there is "somewhere to go" after life on earth.

"So whatever you do on earth will have an effect on your returning to heaven. And then we see also how the devil wanted to tempt man, and how the devil was defeated, and then the angels carried his soul all the way to God ... Every one of the programs talks of loving your brothers and sisters, and a lot of them show that we have one lineage with God. And through this lineage, you know that she's your sister and you are my brother. So if we can all live together like that, like brothers and sisters, God himself will have fulfilled his aim of creating man. So it's very divine, it's a divine kind of a play, and I am really moved."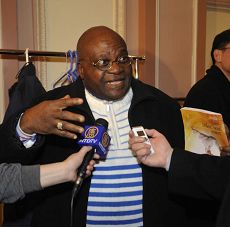 Archbishop Alfred Adelekan
Well-known sculptor: "Divine Performing Arts gives you a taste of the splendid Chinese culture"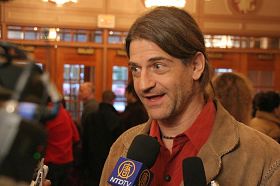 Sculptor Steve Tobin
Steve Tobin, a well-known sculptor, said that the show was exquisite and that the cultural elements portrayed in the show were far beyond what he observed in China last summer. "If you have never been to China, this show gives you a great taste of the splendid Chinese culture. On the other hand, you will not see such a high-level cultural performance if you go to China."
Mr. Tobin said he thought the stories portrayed in the show were easy to comprehend. "I brought my son, and I am sure that he understood them. 'The Money King Triumphs' was very meaningful, and the spiritual connotation of dances related to Falun Gong was very beautiful and clear."
He said that the brilliant, authentic Chinese costumes were essential to convey the true flavor of Chinese culture.
Mr. Tobin was also impressed by the animated backdrop. "I have never seen a backdrop design like this before. It is very Chinese and cannot be found in North America. It helps you to enter the realm portrayed by the show."
Secretary of the United League for Democracy in Laos: "The show portrays the essence of Chinese culture"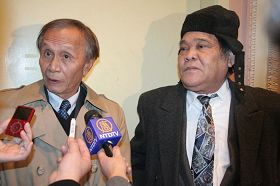 Thong Boulom, secretary of the United League for Democracy in Laos (LDU), and Boonthanh Ratigna, chairperson of the LDU
Thong Boulom, secretary of the United League for Democracy in Laos, made a special trip to Philadelphia to see this show. He said, "Besides the pure artistic achievement and the superb skills, I felt that this show portrayed the essence of Chinese culture.