Epoch Times: Mayor's Assistant: "Chinese Culture and History Explained in Show" (Photo)
Epoch Times
December 19, 2008
FORT LAUDERDALE, Florida--In the first of three Divine Performing Arts (DPA) productions at the Broward Center for the Performing Arts this weekend, the audience was treated to a lively and colorful array of classic Chinese dance, ethnic and folk dances, grand processions, gorgeous costumes, and digital backdrops depicting historic and legendary scenes--drawing on China's ancient cultural heritage as well as contemporary stories of courage and compassion.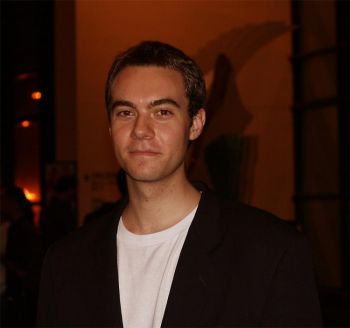 Mr. Trevor Zakov, Assistant to the Mayor, and a student of Chinese culture and language
"It was a very beautiful show--a very, very, very beautiful show," said Trevor Zakov, assistant to the Mayor of Coral Gables, Fla. "I liked the stressing of the different dynasties, and I liked the progression from the beginning, the changes from writing with bamboo to having a pen, and then the culture reaching its peak with the Tang Dynasty from the seventh to the tenth centuries. That was an interesting segment."
Mr. Zakov said the piano pieces were his favorites. "All the piano pieces showed a combination of several artistic skills. When it came to the piano and the tenor or the soprano, it was just a very nice mix; it was very, very soothing to listen to." ("Giving you Hope," with soprano Bai Xue; "One Thought," with tenor Zheng Ning; "Let Reason Prevail," with soprano Jaianing Xu; and "Cosmic Renewal" with tenor Tian Ge.)
"I liked the backdrop as well, where I could read along with the lyrics," he said.
Mr. Zakov has been a student of Chinese language and Chinese culture for about two years and is a fan of New Tang Dynasty Television, which he watches on the Internet. "I hear so much about what China might become, so it seemed like a good place to study. You have to take advantage when life is calling you," he said.
"It's a great show, and it's touring so much more than I had thought. I only hope that through the Web and the blogs and other means, more people can find out about the show and get a chance to watch the show. Everyone here appreciates the show after the fact. Nobody is regretting having gone to this show! It's a great, great, great cultural exposition."
The New York-based Divine Performing Arts (DPA), described on its Web site as "the world's premier Chinese dance and music company," seeks to revive the traditional Chinese culture, which has suffered under communist rule: Divineperformingarts.org
http://en.epochtimes.com/n2/arts-entertainment/divine-performing-arts-fort-lauderdale-trevor-zakov-8808.html