(Clearwisdom.net) On November 17, 2008 Mr. Zhang Litian was beaten to death after being detained in the Jinzhou City Prison for one month. His daughter, Zhang Xintong, an elementary school student, is only nine years old.
(Clearwisdom.net) Falun Gong practitioner Mr. Yu Zhou was tortured to death on Chinese New Year's Eve, February 6, 2008. His wife, Ms. Xu Na is still under severe persecution. At 9:00 a.m. on November 25, 2008, the Chongwen District Court in Beijing sentenced Ms. Xu Na to three years in prison. The whole process took only a few minutes because the results had already been decided, and they were only going through the motions in court. Ms. Xu requested to appeal to a higher court.
(Clearwisdom.net) On March 28, 2006, Mr. Sun Hongchang, a Falun Gong practitioner, was arrested by police officers from the First Division of Fushun City Department and the National Security Division of Qingyuan County. He was blindfolded and beaten by police at the Qingyuan Town Station. He was also tortured by being "Hung up by All Four Limbs Behind the Back" and enduring "Bamboo Stick Penetrates the Fingers" and other brutal methods. For three days and nights, residents close to the police station could hear Mr. Sun's cries. Since then, he has not been able to take care of himself. One of his legs was injured so badly during a beating he can no longer use it. The muscles have atrophied and he has no feeling in it. It has also become swollen.
~ Accounts of Persecution ~
~ Solemn Declarations ~
~ Accounts of Persecution ~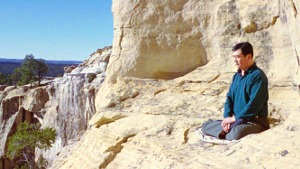 Master Li quietly watching the world from amidst the mountains after leaving New York following July 20th, 1999. (Published January 19, 2000)