(Clearwisdom.net) On the afternoon of November 6, a Eutelsat Stockholder Conference was held in Neuilly, France. As it was the last conference of 2008, nearly 200 stockholders from all over the world attended. Meanwhile, about 100 supporters of New Tang Dynasty TV (NTDTV) protested outside the conference venue, requesting the satellite company to restore the network's broadcast signal to Asia.
(Clearwisdom.net) The 20th annual Russian Children's Sports Show, organized by the Moscow City Government, was held on November 1-5, 2008. More than 120 groups attended the show. Falun Gong practitioners were also invited.
(Clearwisdom.net) Falun Gong practitioners were invited to participate in the Fisher's Ghost Parade at the Campbelltown City Festival on the afternoon of November 1, 2008. More than one hundred different groups participated in this annual parade, which began at 1:30 p.m., concluded at 3:00 p.m., and attracted more than 20,000 spectators. The parade procession included several military marching bands; school, community and business groups; a number of ethnic dancing groups; and a variety of antique cars. Elected federal, provincial, and city representatives watched the parade from the main stage, which was set up in downtown.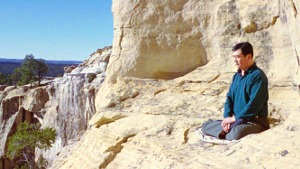 Master Li quietly watching the world from amidst the mountains after leaving New York following July 20th, 1999. (Published January 19, 2000)