San Diego: Chinese New Year Spectacular a Genuine Masterpiece of Chinese Culture (Photo)
January 19, 2008 | By Li Ruoyun, Minghui/Clearwisdom reporter in San Diego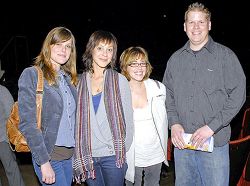 Chris Kydd and his friends attended the premiere of the Chinese New Year Spectacular in San Diego
(Clearwisdom.net) After performing in Phoenix, Arizona, the Divine Performing Arts company traveled to San Diego for the first Chinese New Year Spectacular (CNYS) shows in California, scheduled for January 15-17, 2008 at the California Center for the Arts. Many in the audience, including ethnic Chinese and Westerners, said that they had never seen such an elegant show, resplendent in traditional Chinese culture. Chris Kydd, who works in the advertising business, said that he was very moved by the performance. He described the show as colorful, powerful, educational and a genuine masterpiece of Chinese culture.
Chris said, "I didn't expect as much dancing as I saw today. I was really, really impressed by the diversity of the dance - not just the strength, but the grace of both the men and the women. It seems in American culture it is hard for men to be graceful. Both men and women were equally graceful and beautiful in today's performance." He also loved the Erhu performance. "That was very powerful. It made my skin tingle and my hair stand on end."
Chris felt that the singers were very powerful and he was moved by each one of them. He said, "I can say honestly at certain times in the show I felt lighter than I did when I came in. I felt uplifted by the show. I really did! It has been a while since I felt that way."
Chris leaned a lot from the Spectacular, including a great deal of Chinese history, by reading the lyrics and background information on the backdrops behind the performers. He said, "I learned the meaning of the songs. I have seen Buddhist monks chanting and I have seen different shows with songs and dance, but nothing of this scale."
Chris thought the show was very refreshing for Americans. He said that through the Spectacular, people can experience Chinese culture and see how it relates to theirs.