Korea: Practitioners Hold Candlelight Vigil, Condemn Chinese Communist Regime's Atrocities (Photos)
April 28, 2006 | By a practitioner of Korea
(Clearwisdom.net) On April 21, 2006, together with the "Committee for a Solution Against the Chinese Communist Party (CCP)'s Slaughtering", "Committee for Falun Gong Practitioners' Political Asylum" and "Allies of Citizens against Deporting North Korean Refugees" as well as other organizations, Falun Gong practitioners from Seoul, Korea held a candlelight vigil in front of the Daily East Asia Building, where most of the major Korean media congregate, to commemorate those practitioners who have died as a result of the CCP's persecution in China, to protest the inhumanity of harvesting organs from living Falun Gong practitioners in the forced labor camps in China, and to call for an end to the persecution.
It has been over 40 days since the exposure of the organ harvesting from living practitioners. Some overseas media have reported the incident, but in Korea, which has lots of interactions in diplomatic and economic fields with the CCP, the media has remained silent.
Practitioner Ong Cheng-Mei said: "Korea is one of the states that receive the most organ transplants in China. This is actually helping them in committing crimes. To my regret, the Korean media has remained silent on this issue. The media should help more Korean people know of this, so they can avoid being accomplices of the CCP's mass killing.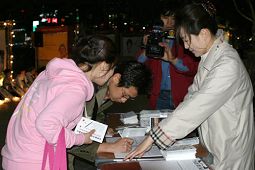 Shocked by the atrocities of organ harvesting from living practitioners, Koreans signed the petition for supporting the effort to resist the CCP's persecution of Falun Gong practitioners
The "Committee for Solution Against Chinese Communist Party (CCP)'s Slaughtering" indicated that they will go to different media outlets, and continue holding commemorative ceremonies calling for attention to the persecution in China.