Missouri Residents Support Rescue of Falun Gong Practitioners' Families (Photos)
March 28, 2009 | By a Falun Dafa practitioner in Missouri
(Clearwisdom.net) Falun Gong practitioners exposed the persecution of Falun Gong by the Chinese Communist Party (CCP) and collected signatures to help rescue imprisoned Falun Gong practitioners' families near the St. Louis Zoo on March 21-22, 2009. Close to one thousand people signed their names to support the effort.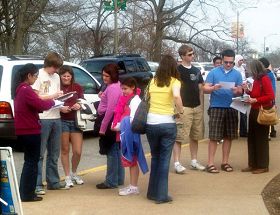 Visitors learn about the persecution and sign their names to help rescue imprisoned Falun Gong practitioners
Ms. Cao Junping, mother of Missouri State University graduate student Pang Jin, is a fifty-one-year-old Falun Gong practitioner in China. She was arrested by the National Security Unit of Weifang City, Shandong Province one week before the Olympic Games. All of the valuables at her home were confiscated. Her husband was detained for a month and his salary stopped just for protecting his wife. Ms. Cao's family wasn't allowed to visit her. They were threatened and had more than 10,000 yuan confiscated. Ms. Cao has been detained in Qingzhou Detention Center for eight months.
Ms. Ma Jinhua, mother of American citizen Wang Maqiong, was taken from her home right before she was to visit Wang in the United States in September, 2008. She was put into a forced labor camp for a one-year term and forced to do manual labor for twelve hours a day.
Ms. Wang Chunyan, mother of American citizen Yu Ping, is a successful businesswoman. She was sentenced to five years in prison in 2007 for practicing Falun Gong. Her husband was persecuted for protecting his wife and he passed away seven years ago. Ms. Wang's sisters were also imprisoned for practicing Falun Gong. Ms. Wang's mother is bed-ridden due to illness, and her father has passed away.
Ten-year-old Zhang Zhijiang's mother Jia Yahui is a reporter for the Shenyang Evening News. She was arrested at her cousin's wedding and put into prison without any legal process or notice to her family. She was later sent to Masanjia Forced Labor Camp, a place notorious for brutal persecution of Falun Gong practitioners. No news about her has been heard since.
Many people stopped at the signature collection booth to find out more about the persecution. They were shocked by the brutality, and many people signed their names in support of the rescue and calling for an end to the persecution. Close to one thousand signatures were collected during the two days.
Some parents took their children to learn about the persecution. One mother said she would like her children to learn more about the world. She took them to see the display exposing the torture of Falun Gong practitioners.
An African student of sociology at Washington University wanted to learn more about Falun Gong. He said that he would take the information to his Chinese friends.
A Chinese family found out about the Falun Gong practitioners' rescue efforts and quietly signed their names to show support. Another Chinese person said, "The CCP should collapse if it is no good for the Chinese people."
Many visitors were fascinated by the beautiful Falun Gong exercises and expressed a desire to go to the group exercise site close to the St. Louis Zoo to learn.