Hong Kong: Ten Members of Legislative Council Co-sign Letter to the French President, Urging Eutelsat to Resume NTDTV's Broadcast to China (Photo)
(Clearwisdom.net) Since Eutelsat stopped New Tang Dynasty Television's (NTDTV) broadcasting signal to China in June 2008, politicians around the world have paid more and more attention to the situation. In the latest co-signed letter to French President Nicolas Sarkozy, ten members of Hong Kong's Legislative Council and a number of influential people in Hong Kong signed a letter to show their support, calling upon Eutelsat to resume NTDTV's broadcast signal to China.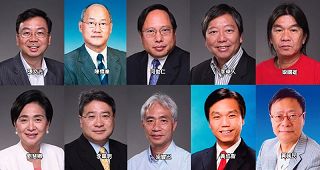 Ten members of the Hong Kong Legislative Council signed a letter to support the resumption of NTDTV's broadcast signal to China
As of December 24, 2008, ten members of the Hong Kong Legislative Council have signed a letter to support restoring NTDTV's broadcast signal to China. They include newly elected Democratic Party Chairman and Vice-Chairman Albert Ho Chun-yan and Emily Lau Wai-hing, members of the Democratic Party Cheung Man-kwong, Wong Sing-chi and Fred Li Wah-ming, Chairman of the League of Social Democrats Raymond Wong Yuk-man, members of the League of Social Democrats Leung Kwok-hung and Albert Chan Wai-yip, and member of the Confederation of Trade Unions Mr. Lee Cheuk-yan and member of the Neighborhood and Workers Service, Mr. Leung Yiu-chung. In addition, a number of influential people in Hong Kong, including Hong Kong Alliance Chairman Szeto Wah, Hong Kong "Open Magazine" editor-in-chief Jin Zhong and others also co-signed the letter, calling upon the French President to address this issue.
It is immoral to cooperate with the CCP to block information
Albert Ho Chun-yan who co-signed the letter pointed out that the Chinese Communist Party (CCP) has mobilized several tens of thousand of Internet police to monitor and shut down websites, and interfere with airwaves. It aims to block the flow of information in a free society, and keep people from knowing the truth. He condemned Eutelsat for currying favor with the CCP in turning off NTDTV's broadcast signal. He said that Eutelsat would be condemned by the free world for its immoral deed.
Mr. Ho called upon Eutelsat to follow their conscience, withstand the CCP's pressure, and restore NTDTV's broadcast to China. He said that in any country other than China, [businesses] should have a business responsibility, and respect the freedom of the world's people to have access to information.
Politics should not interfere with business operations
Fred Li Wah-ming pointed out that freedom of press and freedom of speech are universal values, and no political power should stop them. He said, "No political power should block and forbid differing voices. It doesn't matter if I don't agree with you, but I respect your freedom to express your opinions. Excuses such as being 'blackout' or any other reasons, are business operations. If politics are used as an excuse to interfere with business operations, to strike your political opponents, or opponents who you don't like, I think we should voice our views."
He called upon more people to stand up to support NTDTV, saying, "NTDTV's viewers should certainly support NTDTV; without NTDTV, you would have less choices."
NTDTV is rare in that it is outspoken
Wong Sing-chi praised NTDTV for its effort in terms of freedom of speech, and encouraged NTDTV to keep up with its path to disseminate free information. He said, "We appreciate that the public address system and some information agencies can freely and openly speak the minds of human beings. NTDTV has been outspoken and challenged some totalitarian governments and authorities. I think it is quite rare, and I think more agencies like NTDTV should broadcast important information and messages."
Society's current trend is that of appeasing the CCP
Raymond Wong Yuk-man condemned the CCP's oppression of freedom of press. He said, "Our election slogan is that there will be no change without fighting. You have to fight, whether you are NTDTV, or related media outlets; they have had a lot resistance under the CCP's suppression. The current trend in this free world is that of appeasement, appeasing the CCP, and even encouraging them to suppress freedom of press. I think it is very unfortunate."
He encouraged NTDTV to keep up with its resistance, and he believes that the world should focus attention on mainland China and on other countries where freedom of press is oppressed. Mr. Wong urged Eutelsat to immediately resume NTDTV's broadcast signal to China.
Don't give up our position because of financial and economic benefits
Albert Chan Wai-yip pointed out that the Eutelsat situation once again shows that the CCP has never relaxed its oppression of the press. He said, "What the CCP has tried to control is not only NTDTV, but also any free flow of information. It is a means that the CCP has become accustomed to using, to control society and people's thoughts. Though China has gone through reform and opening up to the outside world, and is experiencing prosperity, the traditional means and modes that the CCP uses to oppress freedom of press and manipulate people's thoughts, I think it has never changed since 1949."
He hoped that more people will stand up for NTDTV. "I hope more people will insist on their own principles, and will not give up their position for financial and economic benefits."
Mr. Lee Cheuk-yan hoped that Eutelsat checks its own behavior and respects the Chinese people's right to obtain information. He believes that Eutelsat should not bow to CCP pressure.
Mr. Leung Yiu-chung believes that Eutelsat's termination of NTDTV's signal serves as a great blow to the freedom of press. He does not want to see freedom of press retrogress in today's world.
On June 16, 2008, Eutelsat used the excuse of "technical problems" on one of the W5 Satellite's transponders and turned off its client NTDTV's broadcast to China. As of today, Eutelsat has not made any formal explanation to NTDTV concerning this issue. On July 10, 2008, Reporters Without Borders (RSF) released a telephone recording, which disclosed that the president of Eutelsat, Guiliano Berrettta had decided to turn off NTDTV's signal to please Beijing, making it a condition for the company to do business with China. Over the past six months, the international community has continuously condemned Eutelsat's for this action.
It has been learned that as of December 29, 2008, 315 European parliamentarians have signed a statement, asking the member states of the European Union to make efforts to urge Eutelsat to restore NTDTV's broadcast signal to China as soon as possible. Seventy congressmen in the United States co-signed a letter to the president of Eutelsat to express their support for NTDTV. Some international human rights groups and Chinese democracy movement advocates also expressed their support for NTDTV.