Los Angeles: Chinese Parents Take Children to See Traditional Culture (Photos)
(Clearwisdom.net) After Divine Performing Arts (DPA) took the stage in Pasadena Civic Auditorium, it has gained tremendous popularity, especially among Chinese who want to expose their children to traditional Chinese culture.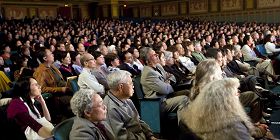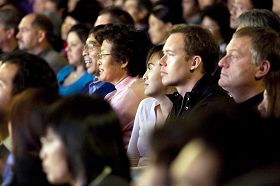 Audience enjoying the show
The heads of the Li and Liu families are originally from China, and they took their children to watch the third DPA show in L.A. on January 1, 2009.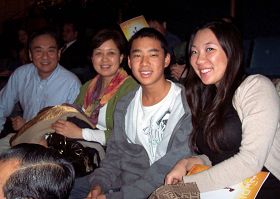 The Liu family
Mrs. Liu is originally from Beijing. She said that after hearing about the DPA shows, she bought tickets for her daughter and son so that they could get some exposure to traditional Chinese culture.
Mrs. Liu's children both liked the dance, "The Monkey King Triumphs," and Mrs. Liu's favorite was the singing. Mr. Liu said that he really enjoyed the show's artistry. When talking about the part of the program about Buddhas, Taos and Gods, Mrs. Liu said that the traditional culture is deeply ingrained in the Chinese mind, even though the Communist Party is undermining it with atheism.
The Li family has their own business. After watching the show, they said that the DPA show was a rare opportunity to see classic Chinese culture because nowadays many things in Chinese culture had been altered to fit modern tastes.
Mr. Li said, "Such a program is so unique. It's great that the DPA show is spreading traditional Chinese culture to the world! Both Chinese and American people will love it."
Mrs. Li was impressed by the DPA show because every aspect, including choreography, costume and music, was gorgeous. She said, "I took my children here for a special purpose. I wanted them to see the Chinese culture. It's just beautiful! The artists are very professional, and the choreography is very unique. We have never seen such dancing before. It's great!"