(Clearwisdom.net) On August 24, 2008 at around noon, a rally was held on George Street of Sydney's city center to call on Eutelsat to restore New Tang Dynasty Television's (NTDTV) uncensored broadcast to China. The event was attended by representatives from NTDTV and the Sound of Hope Radio Network, human rights advocates, members of the World Peace Alliance Organization, Sydney's Tibetan community, the Australia Tibet Council, democracy activists, and the Global Quit CCP (Chinese Communist Party) Service Center. Participants covered their mouths with black tape to symbolize their protest against media censorship. The Australian Broadcasting Corporation (ABC) also attended and interviewed participants.
(Clearwisdom.net)
When Hu Jintao visited Korea on August 25, 2008, the Korean Falun Dafa Association held a press conference in front of the Chinese Embassy to Korea, condemning the Chinese Communist regime's persecution of Falun Dafa. The practitioners asked that the chief culprits responsible for the persecution of Falun Dafa be brought to justice. These perpetrators include Jiang Zemin, Luo Gan, Liu Jing and Zhou Yongkang.
(Clearwisdom.net)
August 27 is Indonesian Independence Day. The Tanjung Pinang city government held a parade to celebrate on Saturday, August 23, 2008.
Divine Land Marching Bands from Malaysia and Singapore were established not long ago, and the Indonesian practitioners invited the two bands to participate in this event. When the Divine Land Marching Band arrived at the event, there was a sudden downpour, but the practitioners didn't drop out of the parade.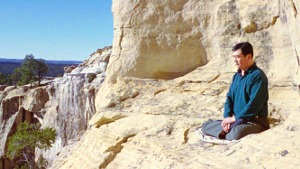 Master Li quietly watching the world from amidst the mountains after leaving New York following July 20th, 1999. (Published January 19, 2000)