Japan: Grand March Held to Support 40 Million Chinese Renouncing the Chinese Communist Party (Photos)
August 21, 2008 | By a Japanese Falun Dafa practitioner
(Clearwisdom.net) On August 17, 2008, a grand march was held in Tokyo to support 42 million Chinese people who have quit the Chinese Communist Party (CCP) and its affiliated organizations. The participants marched through the busy downtown district in Shinjuku and Okubo and attracted the attention of passersby.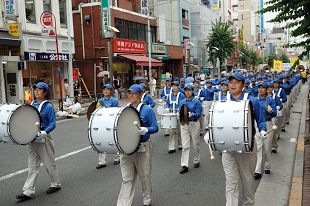 The Falun Dafa Divine Land Marching Band leads the march in Tokyo supporting those who have quit the CCP
The Falun Dafa Divine Land Marching Band on Main Street, where many Chinese businesses and shops are located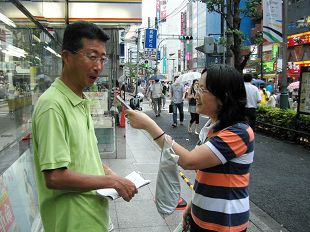 At 1:30 p.m. the march hosted by the Japan Service Center for Quitting the CCP started off in Tayoma Park and proceeded through central Tokyo. Falun Gong practitioners and people from all walks of life who support the movement of quitting the CCP participated in the parade. The Falun Dafa Divine Land Marching Band led the procession, followed by people holding banners that said "Supporting 42 Million People Who Quit the CCP and Welcome the New Epoch in China." As the march proceeded, the majestic and powerful music from the Band attracted passersby. There were volunteers with the parade distributing flyers and explaining the purpose of the event. The messages "Eliminating the Communist Culture and Returning to the Essence of Chinese Culture" "Heaven Blesses China and Eliminates the CCP" were presented to the audience.
It was the last day of "Bon vacation" in Japan and there were many residents and tourists out on the street despite the drizzle. Many people stopped to take pictures of the parade. When the parade passed the Okudo Main Street, where many Chinese and Korean businesses and shops are located, many Chinese people were amazed. They came out to take pictures and ask for more information. Those who lived in the buildings on the street opened their windows and doors to watch the event.
Sato, a representative from the Japan Service Center for Quitting the CCP, said that the CCP continues to suppress human rights, especially of Falun Gong practitioners. It not only persecutes people in China but also spreads a bad influence to democratic countries. Only disintegrating the CCP can stop the persecution.
Yoshida works near Shinjuku. He said this was the first time he'd seen this kind of event. After learning about how the CCP violates human rights, he agreed that people should quit the CCP.
Watanabe said she was glad to see such a parade. She asked for many copies of the special edition of the Japanese Epoch Times so she could tell her friends about the movement.
Liu, who participated in the parade said, "This is great. Most Chinese people should know the CCP does not represent China. So many Falun Gong practitioners are still persecuted in China. Chinese people with conscience should try to do something for the nation from the standpoint of justice. This event to support quitting the CCP is very meaningful."