Canada: Divine Land Marching Band Receives Widespread Public Appreciation (Photos)
August 14, 2008 | By Minghui reporter Ye Linghui
(Clearwisdom.net) On August 2, the Divine Land Marching Band from Toronto, Canada, attended the opening ceremony of the Caribbean Carnival, and performed the Canadian national anthem. On August 9, the band performed at a Rouge River community event, expressing appreciation for the support from the community.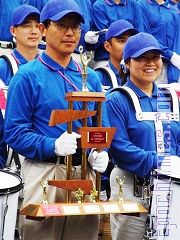 Jiang Fan, the leader of the Divine Land Marching Band, holds the President's Award for the Band's participation in the 30th Canada Day parade in Montreal.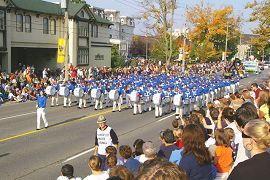 On October 8, 2007, the band performed at the Thanksgiving Parade in Waterloo.
Jiang Fan, the band leader, told reporters that the band was set up in April, 2006. It has performed in more than 80 parades and won widespread praise.
"The Thanksgiving Parade in Waterloo, 2007 made a deep impression on me," Jiang said: "It was one of the biggest Thanksgiving parades in North America. The spectators gave us a very warm welcome."
"We also won the highest award--the President's Award in the Canada Day Parade in Montreal in 2007," Jiang said. "The chair of the parade committee, Claude Leclerc, came to shake hands with us. The organizers spent 10 minutes introducing Falun Gong to the spectators and arranged an exercise demonstration. Mr. Leclerc said our performances were very impressive and had a deep impact."
"We had 80 members in the beginning, but soon the number rose to 100," said Jiang, "We attended a parade in Brampton two months later."
Now the band has 150 members. The oldest is 71-year old Mr. Ye, who plays the trumpet. Mr. Ye is an IT expert. He started practicing Falun Gong in 1993 and came to Canada in 2006. "I moved to Toronto in July, and joined the band in September. I practice trumpet for two hours every day. Two months later, I took part in a Christmas Parade. That year, we were in three Christmas parades," said Mr. Ye.
Mr. Ye said the most impressive thing in the band is how much everybody helps each other. "I live in another city, which is 50 miles away from Toronto. I could not attend rehearsals without the band members' help."