On June 7, 2008, Falun Gong practitioner Ms. Zhang Qian was delivering Epoch Times newspapers in Poland when she was physically and verbally assaulted by a woman who, locals say, has ties to the Chinese Embassy in Warsaw. In response to the CCP's continuing pattern of exporting the persecution of Falun Gong all over the world, Polish Member of European Parliament Hanna Foltyn - Kubicka sent the following letter to the Chinese Ambassador.
(Clearwisdom.net) On the morning of May 22, 2008, Falun Gong practitioner Mr. Cao and other practitioners held a peaceful appeal in front of the Chinese Embassy in Auckland, New Zealand as usual. As soon as they set up banners and started to practice the exercises, a Chinese man in his thirties came and yelled at them, saying, "Why do you still stand here? Now it is a disastrous time for China, can you quit for a few days?"
(Clearwisdom.net) According to the Epoch Times, on May 17, 2008, mobs of two or three hundred Chinese people waving Communist China flags were organized to create public disorder in Flushing, New York, where local Falun Gong practitioners were holding a rally to support the withdrawal of 36 million people from the Chinese Communist Party (CCP). The rally had been scheduled one month before when the organizers submitted an application to the police. The gathering began with a request for a moment of silence to mourn the deaths of the earthquake victims in Sichuan. Instead of respectful silence, however, the request was met with yelling and shouting from the mob on the other side of the street. The mobs on that day engaged in both verbal abuse and physical assault against Falun Gong practitioners. Over the next several days, those pro-communist crowds showed up at the local public library and continued to cause trouble around the Service Center for Quitting the CCP, a booth that had been in operation for four years by Falun Gong practitioners to help people withdraw from the Chinese Communist Party. Even to this day, despite a significant reduction in the number of agitators, the harassment persists.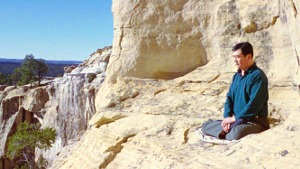 Master Li quietly watching the world from amidst the mountains after leaving New York following July 20th, 1999. (Published January 19, 2000)