(Clearwisdom.net)
On December 21, 2007, Mr. Xiong Yuchen of Luzhuangzi Village, Ren'gezhuang Town, Fengrun District, Tangshan City, died in great sorrow at the age of 77.
Mr. Xiong had five sons and one daughter. His beloved daughter, Suyan, was his treasure. Unfortunately, Suyan suffered from arthritis, pelvic inflammatory disease, lethargy, and anemia after a miscarriage. Sometimes her gums would turn white because of her condition. She had to wear a thick, heavy jacket even in the summer sun. She had a particularly hard time during the winter, and medicine did little to help her. Seeing his beloved daughter's health deteriorate broke Mr. Xiong's heart and worried him deeply.
(Clearwisdom.net) Mr. Zhao Yancheng is a Falun Dafa practitioner in Qiaoguan Town, Weifang City, Shandong Province. He and his family have been persecuted repeatedly by the CCP. Mr. Zhao was sent to a forced labor camp and was only released after being tortured to the brink of death. Recently, he was forced into becoming homeless and destitute in order to avoid being arrested at home. His daughter was arrested and his son suffered a mental breakdown due to the persecution.
(Clearwisdom.net) At around 11:00 p.m. on February 17, 2008, Falun Gong practitioner, Ms. Zhang Yunqin, and her twelve-year-old son were forcibly taken away from the family-housing area in the Gushuyuan Mining plant by several policemen from the Gushuyuan Mining Public Security Office of the Mining Bureau Jincheng City, Shanxi Province, the Mining Bureau Public Security branch office in Jincheng City, and the Jincheng City Public Security Office. The officers took away her computer and many other items. Ms. Zhang Yunqin's son was released the following day, whereas she was illegally detained in the Jincheng City Detention Center. It was said that because Ms. Zhang Yunqin wrote and posted
truth-clarifying
information, the police
illegally arrested
her.
~ Accounts of Persecution ~
~ Shen Yun Performing Arts ~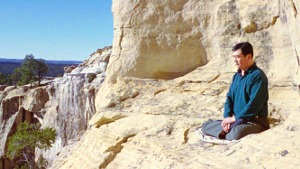 Master Li quietly watching the world from amidst the mountains after leaving New York following July 20th, 1999. (Published January 19, 2000)