Oregon, USA: Falun Dafa Practitioners Receive Award at Parade in Beaverton (Photo)
September 30, 2007 | By a Falun Dafa practitioner in Portland, Oregon
(Clearwisdom.net) Falun Gong practitioners in Oregon were invited to participate in the annual Beaverton Celebration Parade on September 15, 2007. This year happened to be the fiftieth anniversary of Beaverton, so the parade was even more exciting. The theme of the parade was "Everything Is Golden." The gold color used in the parade is the same color used in Falun Gong symbols and banners. It seems to imply the wide spread of Falun Dafa in the world, and the harmony and beauty it brings.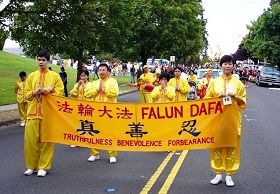 Falun Gong practitioners participate in the Beaverton Celebration Parade
Every Falun Gong practitioner in the waist drum troupe was in high spirits, and the drum beats were exciting. Many spectators happily danced to the beat. The exercise demonstration showed the graceful Falun Gong exercise movements. The profound meaning behind the exercises and their compassionate and beautiful style spread the good news of Truthfulness-Compassion-Tolerance to the parade spectators. The cultivation practice of Falun Gong, under persecution by the Chinese Communist Party for the past eight years, has no fear, depression or hatred. Throughout the parade, the practitioners showcased the peace and compassion of Falun Dafa.
Parade spectators were excited to see the Falun Gong procession and greeted them with warm applause. Some onlookers followed along with the exercise movements. Others expressed gratitude with their hands pressed in front of their chests. Many people couldn't stop taking pictures of the procession. People asked for Falun Gong fliers and expressed their best wishes.
Falun Gong practitioners received an Honorable Mention for their entry in the parade.